At Rated People, we not only care about quality, local tradesmen, we also care about local communities. We like to do our bit for society and get involved as much as we can, whether that means fundraising for charitable organisations, offering sponsorships or setting up a new service to help train the next generation of tradesmen.
Here are some of the activities that have kept us busy over the past few years:
Rated Apprenticeships
Rated Apprenticeships is an introductory service set up to provide a platform for tradesmen and apprentices to connect. Its aim is to help apprentices who are looking for a career in a trade to learn from established professionals. Tradesmen, by invitation only, can post vacancies to which aspiring apprentices can apply. Apprentices can browse these job vacancies and contact the tradesmen that they would like to work with. They can also place their own advertisements, describing their ideal apprenticeship along with details about their past education and qualifications.
Somerville Adventure Youth and Play Provision
Somerville Youth and Play Provision run a community based adventure playground in South East London, which offers a safe play space with support and activities for school aged children. The playground is maintained by volunteers, but with so much wood to sand and paint we thought we'd give them a helping hand. Here we all are proudly stood in front of the newly painted play structure.
 VIY (Volunteer it Yourself) and Build-it
We're working with and supporting VIY (Volunteer it Yourself) and Build-it (as featured on TV), two organisations that encourage young people to learn DIY and construction skills on the job. The teens are mentored by volunteer tradesmen and together they fix local youth club buildings and social housing. If you fancy becoming a mentor and volunteering on a project (there are currently 47 locations across the UK), get in touch.
Southwark Children's Brass Band
Southwark Children's Brass Band was founded in 1996 and re-constituted as a charity in 2010. The band regularly performs at events such as the Dulwich Festival and other venues across London. Children who can play just 3 notes are welcome to join the junior band and instruments are provided for those who are unable to afford them. There are currently 50 children in the junior and senior bands, with the youngest member being six years old and the oldest 14. The Rated People sponsorship will go towards new equipment, teaching and the day to day running of the band.
The Edible Bus Stop
The Edible Bus Stop was once a derelict, urban plot next to a bus stop in Stockwell, south London. The patch was to be transformed into new flats by the council, but was instead claimed by locals who turned it into a community garden. Bringing the neighbourhood together, it turned into a free-for-all vegetable and flower plot with regular digs and planting sessions.  In 2013, the The Edible Bus Stop became the first 'Pocket Park' to be sponsored by the Mayor of London, it is currently undergoing re-landscaping. The Rated People sponsorship will go towards planting fruit trees, building a new website and investing in storage space for the plants and tools.
Berkhamsted Sport Centre Swimming Club
BSCSC is a small and friendly swimming club in Hertfordshire, which was founded in 1995. The club has around 100 members who swim at a local, county and regional level. Children can join from eight years and up. BSCSC's Chief Coach Geoff Wood has been coaching the swimmers since 2005 and is aided by enthusiastic volunteers. From Rated People's sponsorship, BSCSC will invest in new equipment to improve the children's training.
London to Paris 2013
On the 20th June 2013, our CEO, Chris Havemann, joined Mike Reid, Joe Krancki and Jens Duing of Frog Capital to take part in a bike ride organised by Hot Chillee. Over three days, the team of four covered 520km, starting from Hampton Court near London and cycling all the way to the Eiffel Tower in Paris. Over £2,400 was raised for WORKAID, a charity which supplies refurbished tools and equipment to vocational training projects; enabling thousands of people to build better lives for themselves and their families.
UK End2End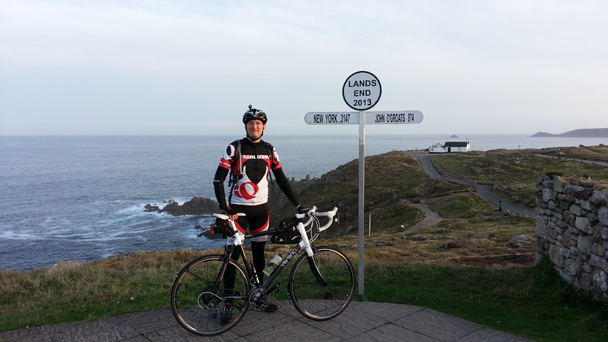 Our Director of Insight & Monetisation, Chris Burke, gave up a week and a half of his holiday during summer 2013 to take part in a charity cycle ride for the Scope charity. Scope helps people with disabilities by providing ongoing support in the form of advice and everyday care. This ranges from explaining the stages of disability to providing a list of accessible leisure facilities for a disabled person to enjoy. Starting at Land's End on the 31st August, Chris' ride finished 9 days and a massive 1000 miles later at John O'Groats, earning him over £2600 to give to the charity.
10km 24 hour Challenge
Back in September 2012, three hardy Rated People employees, Christian Mezzina (Director, Digital Marketing & Innovation), Chris Burke (Director of Insight & Monetisation) and Mantas Lobe (former Systems Administrator), put on their walking boots and walked 100km in 24 hours to fundraise for Shooting Star CHASE. The charity provides children's hospice care, supporting families from diagnosis to end of life and throughout bereavement through a combination of nursing, practical, emotional and medical care. As part of the Thames Path Challenge, they walked all the way from Central London's Putney Bridge to Henley, raising over £800 for their efforts.