Grey has never been so popular, mainly due to the mummy porn phenomenon of E L James's novel 50 Shades of Grey. Archetype grey, however, is technically not a colour but a shade, and it has been over looked in décor for too long. However, what's not to like about grey home decor? It's unisex, compliments almost any colour (I actually can't think of a colour it would clash with), comes in many, many shades and well, it just looks good doesn't it? Sadly it seems not everyone agrees; brandishing it dull and depressing. Perhaps this blog posts grey home decor inspiration will turn some grey-haters into lovers.
Much like the 50 Shades novel the colour grey (let's just call it a colour for names-sake) can be a controversial choice, often considered depressing – the Guardian actually referred to it as the "drabbest colour in the palette". This, I just won't stand for; if big can be beautiful, so can grey!
Grey-on-grey, yes it works. Mix textures, fabrics and shades to create depth. This grey bedroom has a hint of lilac, mixed with luxurious silks and suede. Drab? I don't think so.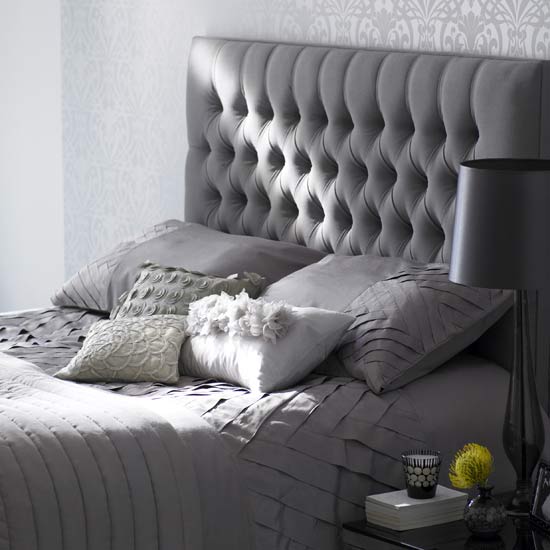 Image: House to Home
I do concede that grey-on-grey (done badly) could  be somewhat dull, but as it's void of colour it creates the perfect backdrop for a complimentary colour. And hey, what compliments grey… everything! If grey-on-grey is to harsh for your tastes, mix with colour to add warmth (yellow-greys), or cool down with blue hues.
Yellow
The only way you can improve grey is with colour. It's a design statement that's easy to execute. Light greys and lemon yellows give a classic edge – well suited to the summer months – while darker greys and vibrant, almost neon yellows, look modern and dramatic. This colour combination looks contemporary, yet it's unlikely to date fast.
Image: Ligne Roset
Monochrome
Everything between white and black is a classic scheme. Go too extreme with black and it may look a bit bachelor-pad like. For a more feminine tone use more whites and creams alongside pink-greys or lavender-greys to soften the look.
Pink
Go for shocking bright, or pale and relaxing. Play around with the depth of colour depending on your desired look.
Blue
This equals bang on trend. Cobalt blue is a hit this winter, team it with charcoal grey and you're on to winner. Avoid using blues in already cold rooms, this is for already sunny rooms only.
Images: House to Home
I didn't quite make it to 50 colour combinations with grey, but you get the idea!
Ready to makeover your walls with some calming grey paint? Get expert advice from one of our qualified and approved painters and decorators to give your home a new lease of life.