If you're one of the many tradespeople that started out keeping track of their accounts using a good old-fashioned pencil and paper, it probably didn't take you long to realise that this approach isn't sustainable.
As your business grows and develops, your approach to your accounts will need to do so too if you want to keep your finances from getting in a mess.
Accounting software can help you to get organised, reduce errors and keep accurate records; all things that are absolutely essential to your success as your business expands.
Not only does accounting software help you to keep things in order, it also helps you to see the bigger picture by clearly visualising your business' performance in real-time, something that'svery important for identifying issues and opportunities to help your business grow.
Choosing the right accounting software can be difficult, especially if you're no accounting pro.  With so many different options available it's hard to know whether you need desktop software or an online service, a paid service or a free option.
This guide will help you to understand the differences between the top accounting software solutions.
What does accounting software do?
If you're used to keeping track of things on paper or with a simple Excel spreadsheet, you may not yet be aware of the many ways in which accounting software can make your life easier and your business more efficient.
A few of the key functions of accounting software include:
Creating and tracking invoices.
Paying bills.
Recording transactions.
Bank reconciliations.
Monitoring company performance.
Sharing information with your accountant.
VAT returns.
Keeping accurate timesheets.
In 2019, the government plan to roll out a change called 'Making Tax Digital' which will require everyone to submit their VAT returns electronically.  Using accounting software and having existing digital copies of all your accounts is convenient and will prepare you for this change.
What are the benefits of using accounting software?
Accounting software has become a business essential for success. Not only does it make keeping track of your accounts simple, efficient and accurate, it can also save  a lot of time and give you invaluable insight into your business' performance.
Here are just a few of the key benefits of using accounting software:
Easier to keep track of overdue payments.
Makes it quick to generate in-depth reports.
Track business performance in real-time.
Helps organise the day-to-day running of your business.
Makes it simple to share information with your accountant.
Minimises errors.
Repetitive tasks can be automated to save time.
Can be integrated with other software and services.
Desktop software or cloud-based?
Whilst accounting software started out life on the desktop, the many benefits that online cloud-based services have over their desktop counterparts means that there hasn't been a new desktop accounting solution developed in a very long time.
Online accounting platforms are generally far simpler and more user-friendly, meaning business owners don't need to spend as much time learning to use them.  When using a cloud-based solution you can also access the service and your data from any device, in any location, whereas with desktop software you can only access the software and information from the one machine it has been installed on.
For the most part, accounting software has now moved online as most business owners prefer the flexibility and convenience that cloud-based services offer.
Advantages of desktop software
Using desktop software does still have a handful of advantages over cloud-based services, these include:
Still accessible if the internet is down.
Often has more extensive reporting and the option to create bespoke reports.
Invoices are often customisable.
Advantages of online cloud-based software
It'sundeniable that there are far more advantages of cloud-based accounting services over desktop software, for example:
Simplified user-friendly platforms.
Quicker to pick up than desktop software.
Can be conveniently accessed from anywhere.
No large upfront cost (free or subscription model).
Can choose an account level and price to suit your requirements.
Integration with 3rd party apps (e.g. bank feeds, inventory tracking and industry-specific apps).
Can be accessed on multiple devices.
Automatically backed up and secure.
Automatically updated on a regular basis.
Access 75,000 leads a month, build your reputation online and get discounts worth £800 a year.
Enquire now
Desktop accounting software
With desktop accounting software fading fast, it's no surprise that the two that have withstood the test of time come from long-established veterans of the accounting software industry; Sage and QuickBooks.
QuickBooks provides businesses with everything they require to manage their finances as well as a whole host of useful features to help things run more efficiently. Extra features on the desktop software that are not present on the online version include the ability to budget and track mileage and expenses. Forms within the desktop version are also more customisable than they are in QuickBooks Online.
Sage 50C combines the best of both worlds; a comprehensive feature-rich desktop software and the convenience and security of cloud integration. Sage provides in-depth features for managing even the most complex of finances.  The desktop version is an excellent option if you want to create detailed custom reports and forms.
Cloud-based accounting solutions
What is the Cloud?
The cloud is an online platform that can be used to securely run software and store data.  Software and data on the cloud can be conveniently accessed from any location or device.
The top 7 cloud-based accounting services
Integrates with 600+ third-party apps.
Free 30-day trial.
Suitable for small and medium-sized businesses.
Xero has three different pricing plans, meaning you can choose the most cost-effective option to suit your business' needs.  This double-entry accounting service has all the features and functions you would expect, and plenty more available as integrations.  One big advantage of Xero is that there's no limit to the number of users that you can add to your account.
One of the first providers of accounting software.
Free 30-day trial.
Regularly updated.
QuickBooks provides small businesses with everything they need to keep comprehensive and accurate accounts including invoicing, time tracking, tax, inventory, reporting and accounts payable.  QuickBooks can be integrated with your bank account to automatically download your business transactions.  With over 400 app integrations available, you can plug-in a whole host of extra features to make your job even easier.
User-friendly with no accounting jargon.
Can file information directly with HMRC.
Suitable for small and medium-sized businesses.
All the key accounting areas are covered in Kashflow's award-winning online software.  They also have a handy app that can be used to quickly send quotes and invoices whilst on the go. The program has excellent importing abilities, allowing data to be imported directly from QuickBooks, Sage or Excel.
Sage Business Cloud Accounting
One of the most established names in accounting software.
Free and unlimited 24/7 email and telephone support.
Can be used to manage multiple businesses.
You know you're in good hands with Sage.  Sage Business Cloud Accounting (formerly Sage One) can connect to your bank account to view your bank feeds without the need to download and import them.  It is also a good option for e-commerce businesses as it can import online transactions from Sage Pay.  Achieve complete cash flow management with the easy to use interface and dashboard which provides a real-time overview of your business' performance.
Comprehensive tool for bookkeeping.
Most suited to small businesses.
14-day free trial.
Zoho Books provides everything you need for accurate bookkeeping, including project and time tracking, inventory management and sales and purchases records. The interface is easy to pick up and user-friendly.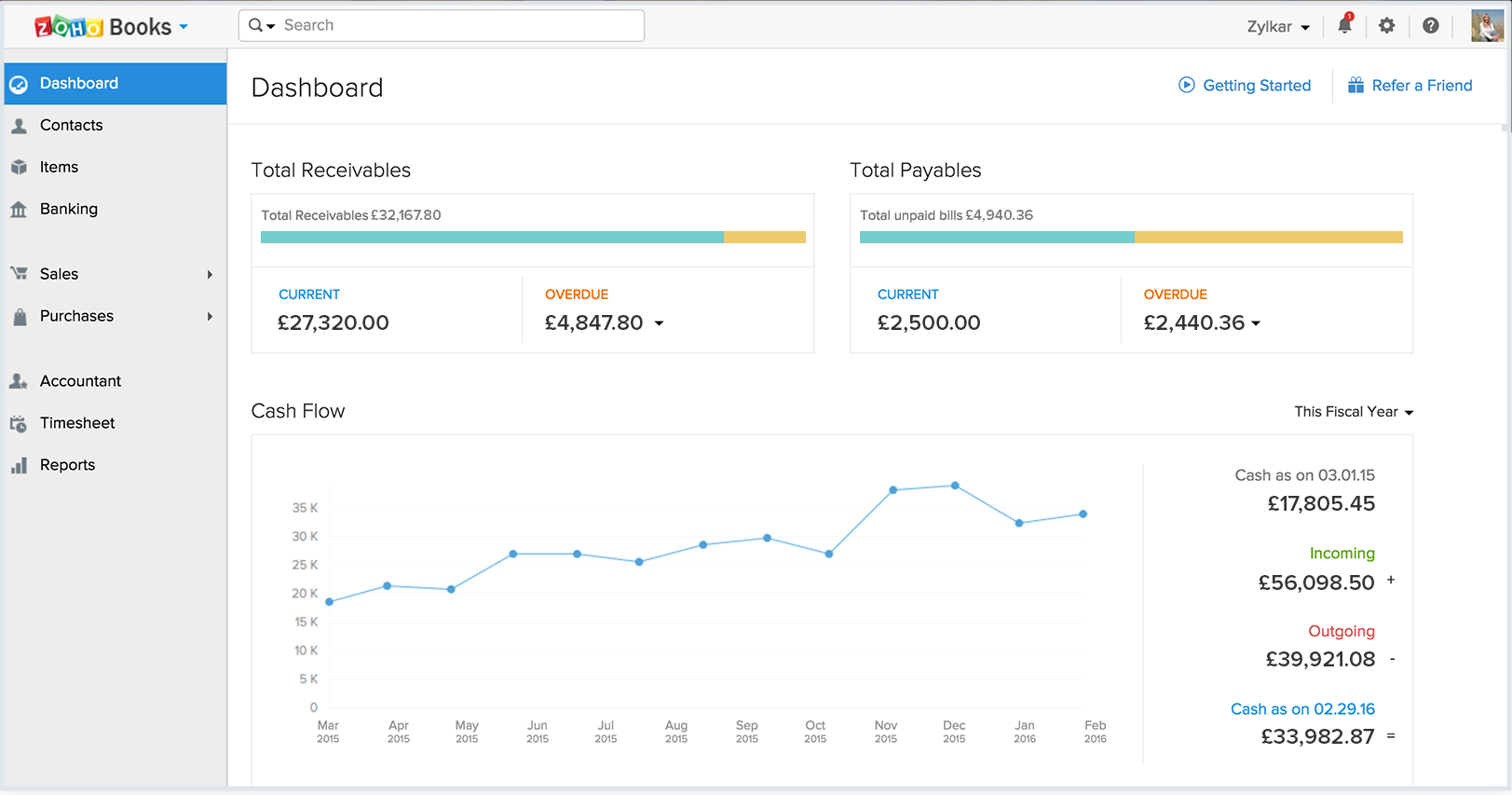 Free to use.
Simple to set-up and navigate..
Most suited to freelancers, sole traders and small businesses with nine employees or less.
Wave is a free tool that's perfect for small businesses that only require simple features like accounting, estimates, expense tracking, invoicing and receipts. The service offers clear, simple and effective reporting and a useful dashboard for tracking payments and performance.
Suitable for self-employed individuals and small businesses.
Saves time by automating tasks.
Used by over 10 million people.
FreshBooks is often praised for its simple, user-friendly design and intuitive navigation that make it  easy to learn to use. The system allows you to accurately track expenses and time, create professional invoices and get paid faster by accepting credit cards online.  FreshBooks' slick mobile app also means you can keep up with your finances whilst you're on the go.
Free or paid?
Whether or not you can get away with using a free accounting software like Wave depends entirely on the size of your business and the features that you require. Bear in mind that free software is usually very limited and only suitable for the simplest of business models.
Larger or more complex businesses that make a lot of transactions may find their requirements are better suited to the features that a paid service can offer.
Advantages of paid accounting software
Whilst having to pay for something is never seen as an advantage, you do usually get what you pay for.  A few benefits of choosing a paid service over a free one are:
A better selection of features.
More reactive to changes with updates.
Better customer service and support.
More integrations supported.
Cloud accounting services price comparison
| | | | | | | | |
| --- | --- | --- | --- | --- | --- | --- | --- |
| | Xero | QuickBooks Online | Kashflow | Sage Business Cloud Accounting | Zoho Books | Wave | FreshBooks |
| Price plans | £10 – £27.50 p/m | £6 – £25 p/m* | £7 – £19 p/m | £10 – £22 p/m | £6 – £18 p/m | Free | £12 – £38 p/m |
| Free trial? | 30-day free trial | 30-day free trial | 14-day free trial | 30-day free trial | 14-day free trial | N/A | 30-day free trial |
| Would suit | Small and medium-sized businesses | Small and medium-sized businesses | Small businesses | Small and medium-sized businesses | Small and medium-sized businesses | Freelancers, sole traders and very small businesses | Sole traders and small businesses |
* If you're a tradesperson registered with Rated People, you can receive 50% off for the first 12 months.
Accounting software for tradespeople
As a tradesperson, most of your working hours are spent out and about on the job, so finding the time to sit down at a desk and look at your accounts can be difficult.  Cloud-based accounting services are a good solution for tradespeople as their simple interface and intuitive navigation are easy for the time-starved to quickly pick up.  Accounting services that also offer mobile apps can help tradespeople to complete simple admin tasks using their mobile phones during those rare few free minutes when you find yourself sat in your van between jobs.
As well as general accounting and payroll, there are plenty of industry-specific apps that can be integrated into cloud-based accounting software to provide tradespeople with useful extra features.  Just a small handful of the tasks these apps can help with include job scheduling, project management, quoting, and GPS tracking.
A few of the most popular apps for tradespeople include:
How to choose which option is right for you and your business?
Once you've done your research and know what options are available to you, it's time to weigh up the pros and cons of each and decide which one best suits your business' requirements.  Whilst you don't want to be paying more than necessary for something that is overly complicated, you also don't want to outgrow your software choice too quickly.
Here are a few key areas to consider when deciding which solution is the best match for your business.
Appearance and usability.
Number of users allowed.
Customer service and support.
Ability to restrict user access.
Integration with third-party apps.
Ability to import data.
Level of user support offered.
Rated People member offer
Our member benefits offer gives tradespeople who are signed up with Rated People 50% off their first 12 months with QuickBooks.  Finding the time to manage your business' finances can be challenging, but QuickBooks can help you to get the job done quickly and efficiently.  From chasing invoices to tracking company performance, QuickBooks' user-friendly interface makes reviewing your finances simple.
Enquire now about a membership with Rated People