While many are awaiting the famous Chelsea Flower Show (22-26 May) to kick off, there are other events in the capital that aim to make gardening more accessible. The Chelsea Flower Show, with its celebrities and pomp, usually sell out its tickets before you can say 'perennials'. These tickets don't come cheap either, so it's a relief that the inaugural Chelsea Fringe offers blooms on a budget..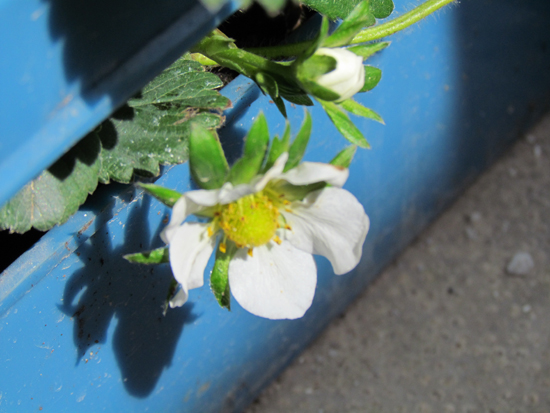 Chelsea Fringe is a democratic alternative to the more famous garden show giant, it's completely volunteer run and has initiated plenty of events throughout London. There are walks, talks, exhibitions and installations that cover gardening, landscaping and vegetable growing. We have previously reported about the Edible Bus Stop in south London, which transformed a derelict bus stop into a communal garden plot. Now, the project has spread and will transform an entire bus line (route 322), turning its neglected stops green and lush. During the Fringe, people are encouraged to come down and take a closer look at the project.
In Sydenham, also in south London, there will be workshops dedicated to creating living roofs and building bird boxes. As both events are free, it means anyone who's interested in doing more for the community can come along. Across town, in Chiswick, we're intrigued to hear about a river of fruit trees. The Edible High Road will see local businesses sponsoring trees to form a street orchard, with the trees being re-planted after the event. If the trees are ready to be harvested, we're expecting a fruit fest!
Also in the west, the Grand Union Canal will be turned into a floating forest with 600 wooden disks (tree trunks) suspended in the water outside The Dock Kitchen. Plan your visit around The Dock Garden festival, which hosts events, food activities and a pop-up market. for 3 weeks (19 May- 10 June).
Over in Dalston, there will be an inagural Dalston Flower Show, celebrating the green spaces in the area, and St.Leonards Church in Shoreditch will have its pillars adorned with oranges and lemons – as a nod to the nursery rhyme. A 'Pimp Your Pavement' event will take place all over London, turning patchy pavements into green oases. The example above is from Trafalgar Square.
The London Gardens Walking tour promises 700 years of garden history along a 20 mile route. Start and end point for the tour is Trafalgar Square and Victoria Tower Garden. A map is available to download for free to your smart phones, and you'll be able to explore the Peter Pan Garden, National Army Poppyfield Garden and St James's Cow among others.
For those who need inspiration for their own gardens, we suggest noseying around others', without trespassing. The Open Garden Squares Weekend (9-10 June) will allow you to do just that. Over 200 private gardens and squares are open for a visit, and some will even offer refreshments.
We can understand that after these events you'll feel inspired to spruce up your garden and outside space! Post your job for free on RatedPeople.com and up to 3 quality gardeners will get in touch to help you with your project. Read their previous ratings, look at their photos and pick the gardener for you.