Advice
Alternative living: houseboats are more than an RV on the sea
Apparently houseboats have become cool, but I still got a cold damp feeling just from hearing the word 'houseboat,' until I saw this…
Photo credit: Dornob  
Houseboats are becoming less boat-like and more house-like. There are 2 options when considering a houseboat: a traditional narrow boat with an engine or a more permanent floating structure known as a waterbourne dwelling, like the one above.
It is possible to kit a houseboat out like a  normal house, with every mod con. This luxury houseboat has a contemporary loft style interior.
Photo credit: Freshhome
It may be cheaper to live on a houseboat than in a traditional house but boats need far more maintenance; you'll either need to be a dab hand at DIY or plan to get a local tradesman in on a regular basis to keep things ship shape.
It's all very well deciding to live on a houseboat, it can often be a great way for first-time buyers to get on the property ladder, but if you don't have a mooring you're wasting your time. Either buy a boat with a mooring or ensure you have one lined up. Moorings vary in price depending on location and the size of your boat, in Cheyne Walk, Chelsea, for example, you'll pay £20,000-£50,000 every fifteen years. Annual mooring tends to cost between £4,000-£5,000, but London moorings are highly sought after and therefore hard to come by.
Many of the interiors of contemporary houseboats take on the persona of a modern loft space, there is often nothing boat-like about them, other than the fact that they are floating.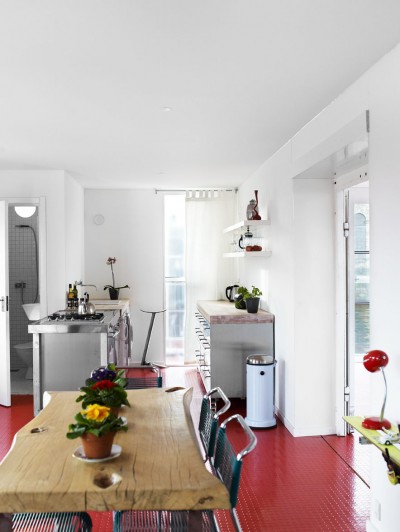 Photo credit: JuggleFrog
If you have a houseboat and these stylish interiors have inspired you, post your job for free on RatedPeople.com. We will put you in contact with up to 3 local, quality tradesmen, who will provide you with a quote for the work to get your boat in ship shape.