Animal themed decor, it seems we just can't get enough of the stuff. First it was English Bulldogs telling us to 'keep calm and carry on' and now we've moved on to the more exotic – polar bears.
Animal prints always creep back into interior design, the result is sometimes tacky. A safer and yet fun way to introduce animals into your décor is to incorporate the entire animal, rather than just its coat pattern. This can be done on textiles/ soft furnishing, for a subtle look, or integrated into more structural objects as a statement piece such as this polar bear bookshelf by iBRIDE.
Lladro adopted a more traditional approach to the animal trend with parakeets perched on contemporary lamp stands. Lladro, although beautiful, might not be something you would ordinarily want in your home – its design is known for being anything but edgy. However, these modern lamps with a little bit of tradition are the perfect way to introduce animals.
Birds, birds, birds are everywhere, and they are very Hitchcock-esque. These eerie creations, also by iBRIDE, might not catch on but they're certainly an attention-grabbing interior design statement. Stay away from the nursery however, unless you want children with ornithophobia (fear of birds).
A little bit more cheap (yet chic), these metal bird bulb-covers from Luka Luna snap on and off of light-bulbs – an easy way to get the animal look. They're a lot more fun than ordinary lamp shades.
Cats and dogs with lamps for heads, whose idea was that? The answer: Eno Studio. These little critas are too fun to miss.
Our interior design ambassador Abigail Ahern has this trend perfected with her collection of animal table lamps. Pick from Walter, Mungo, Clyde, Odelia – and the list goes on!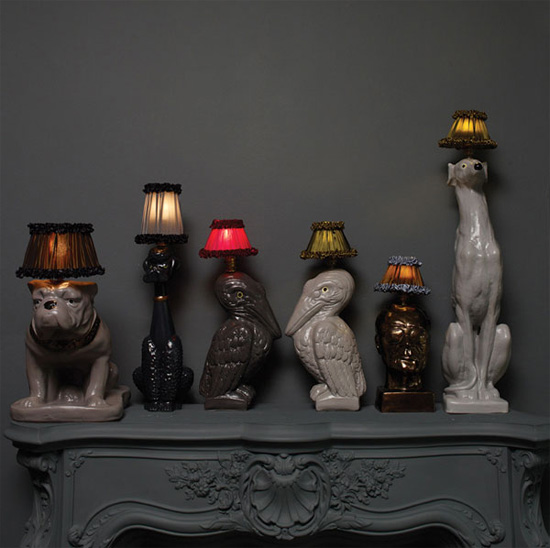 These farm yard dressers are everywhere (all over Pairs at least). Practical they are not but this trend is about fun, not space saving solutions!
The animal trend is about humour, that's the best thing about it. You don't need to take it too seriously; there are no rights or wrongs. The best way to jump on this trend is with accessories, like one of Abigail's lamps. Luckily, should animals go out of fashion you can simply replace with the new trend. Unlike the real thing, animal accessories aren't for life!
Excited about introducing some animal themed decor into your home? Post a job on Rated People in our Painter / Decorator category to receive quotes from our qualified and trusted tradesmen.