If you have a home improvement question and you'd like advice from our expert tradespeople, our Ask an expert section is the place for you. From decorating to carpentry, you can post your question across over 27 different categories.
Over the past 7 days, we've seen a range of questions from how to deal with broken up grouting to knowing what to tackle first in a big kitchen renovation job. Read a few of our questions and answers below and don't forget if your question isn't covered here, head to Ask an expert to browse more or ask your own.
Problematic bathroom flooring
Stephen has his bathroom floor tiled and noticed the grouting keeps breaking up and coming out. He asked our tiling experts whether there was something other than grout that would be more flexible and do the same job.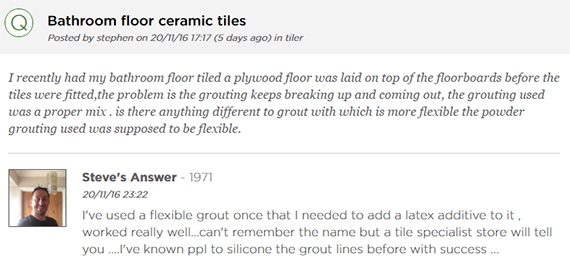 Steve from 1971 told him that he's used a flexible grout in the past that needed a latex additive added to it. He also told Stephen that he could try putting silicone on the grout lines instead.
Dealing with damp
Catherine is having trouble dealing with a damp problem. She wanted to know how it could be sorted and how much it would cost her to put right.
Andrew from AMS joinery services explained that she'd have to first have a report done which would list the work that needed to be carried out.
Flexing shower tray
Derek's shower tray is bending when he stands in it but he can't see any cracks. He asked our registered plumbers for advice on how he could repair it instead of replacing it. Howellheating and plumbing, AMS joinery services and J Ireland Plumber all came to his aid, explaining how a wooden board can be used to sort the problem.
Boarding up a gap
Louise got in touch about a gap underneath her front door. As her grill is broken, she wanted to get the gap filled in. John from ROTHERHAM AND DONCASTER LOCKSMITH explained that that wouldn't be a good idea. Why? Because blocking it would mean getting rid of the source of ventilation for her cellar. A poorly ventilated space can lead to all sorts of problems, including damp.
Removing wood chip ceilings
Heather wants to get rid of two wood chip ceilings before moving house. She wanted to know whether it would be a bad idea to try and remove them herself and whether she should put up board and plaster instead.
Andre from ALT Plastering advised her to think about re-plaster boarding the ceilings and skimming them as it would be easier. However, he explained that this depends on whether she has coving which she wants to keep.
Kitchen renovation tips
Tatiana got in touch with our kitchen specialists to ask for advice on tackling a kitchen renovation. She knew what jobs needed doing but was unsure about the order she should do them. Ramin of Starling Properties Maintenace and Building came to her aid, with the below advice:
To put your own home improvement question to our registered tradespeople, head to our Ask section, or our homepage if you're looking for a tradesperson to help complete the work.