Steam cleaning carpets and tiled floors is a great way to give your floors a new lease of life, elongating the time between the expense of purchasing new flooring surfaces. David Buckland of Steam Clean Carpet Service a member of RatedPeople , has provided a guide to cleaning your carpets.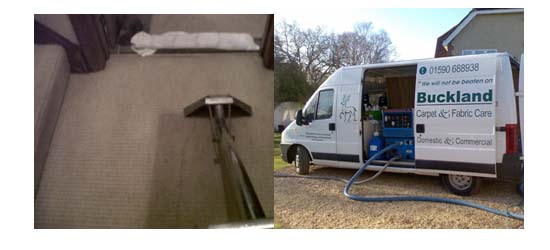 Cleaning your carpets regularly can not only increase their lifespan, but also make your home more saleable. First impressions are vital. Put yourself in the buyer's shoes, if you step into a property and you like what you see at first sight, quickly switch to serious mode and start analysing exactly what you are buying. You are not buying the giant flat screen TV or that chic glass dining table, but chances are you are buying the carpets as part of the fixtures and fittings of the house.
As a seller you need to present this asset in the best possible light. Tired, grubby looking carpets and even worse, carpets soiled by pets, can put potential buyers off your whole house. When asked, people often say they are going to change the carpets as soon as they move in, but in fact they will probably still be living with the same floor coverings in six months, a year, or in many cases much longer.
The truth is, carpets collect a lot of residue from everyday life including large concentrations of dead skin, dust mites, pet dander and of course walked in soil, much of which cannot simply be vacuumed away. For the best results in a domestic situation your best bet is to hire a local company who use a powerful truck-mounted floor steam cleaner, known as a HWE or Hot Water Extraction – the system recommended by most carpet manufacturers.
How does it work?
The trained operator will first vacuum your carpets with an industrial twin-motor machine and then pre-spray with a soapy substance that will help to emulsify the stubborn soil attached to the pile of the carpet.
After the pre-spray has been left to 'dwell' on the carpet, the truck mounted floor steam cleaner system then sprays – at high pressure – a very hot mixture of detergent onto the carpet and then extracts the mixture (along with the soil and other nasties) using the super-strength vacuum and steam – not water vapour – which will be seen jetting from the end of the metal wand floor tool.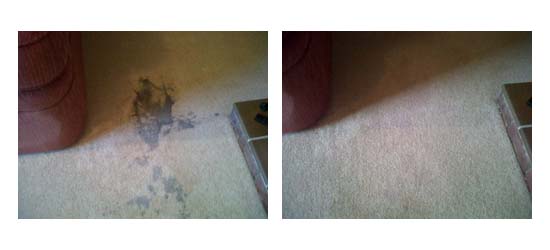 Before and after wine stains
The fresh water for the steam mixture and the soiled waste that is recovered is serviced by large tanks on board the truck-mounted unit. These machines are extremely efficient and effective and once they are set up they can clean very large areas of carpet very quickly.
Is it really effective?
All this of course comes at a cost, but it will not be excessive if you have a number of rooms to clean. The old adage about 'buy cheap – buy twice' certainly applies to carpet cleaning and it is definitely worth asking if the operator uses a 'truck-mounted system'. There are operators who are known in the trade as 'splash and dash' merchants, who use glorified hire machines which are under-powered electric systems. These less powerful systems are short on either true heated cleaning ability or drying (vacuum) power and often leave carpets no better than when they started.
Reputable operators are fully insured for unlikely events such as treatment risk and will give you their full company address details. Avoid getting your carpets cleaned by companies who just push their cards through your door with a mobile number and an offer of 'whole house' carpet cleans for very low prices – they're usually 'splash and dash'.
When you hire a professional carpet cleaner you should establish during the (free) quotation if all the marks and stains in your carpets will be removed. Sadly if you have very long-standing stains caused by ink, blood or shoe polish, they may be permanent. Wear marks in high traffic areas and these parts may not clean as well as other less worn areas because of abrasion to the fibres.
If you're looking for a carpet cleaner in your area, like Steam Clean Carpet Service, post your job on RatedPeople.com and we'll put you in contact with up to 3 quality, local cleaners. Each tradesmen will quote for your job, you can then review their online ratings from previous customers and select your preferred tradesman.