If you've been following us on Facebook or talked to us on Twitter lately, you know that we launched our new site design yesterday. This has been an exciting work in progress for the past months, and we're proud to announce the new look and feel of RatedPeople.com.
We think it's very important to listen to our customers – both homeowners and tradesmen – and with the help of your feedback, we've created this home improvement inspired design, which is easier to navigate than the previous one.
Attention homeowners!
The above is the landing page for homeowners and in 4 easy steps you can find a quality, local tradesman. This is how it works:
1. Submit your job providing a clear description of the help you need. Remember that tradesmen buy these leads so they can quote and impress you with their skills and ratings, so bear in mind that all jobs need to be genuine.
2. We send your request to tradesmen that are qualified for the job and want to work in your area. This means that by the click of a button a request has been sent out to (potentially) thousands of tradesmen that are interested in helping you with your job. That beats flicking through a directory.
3.  Up to three quality, local tradesmen will get in touch with you and quote. Read their ratings from previous customers and pick that one that's right for you!
4. When your tradesman has finished the job – rate him, so other homeowners know what they're getting too.
Attention tradesmen!
The landing page for tradesmen look slightly different, with a step-by-step video to show how RatedPeople.com works. We've designed this page to make it as easy as possible for tradesmen to sign up and starting finding work. Compared to the old design, this is more clean and simple and less in your face than the previous green-orange combo
The benefits of signing up (among many) is:
– Get high quality job leads
– Choose where you want to work
– Earn more money and have a steady work flow all year round
– Grow your reputation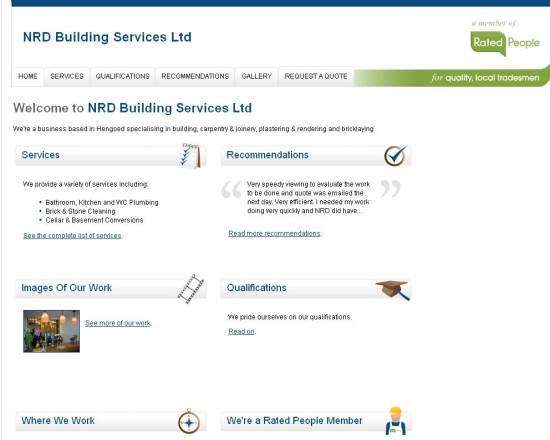 This section is tradesmen's chance of bigging up their business. They can add images of previous work, qualifications and areas they're specialised in. The more information that's on here, the more likely it is to convince a homeowner that they're the right tradesman for the job. This page is also important as it's here homeowners can read the tradesmen's ratings and recommendations.
We hope you like the new designs and face lifts as much as we do. If you have any feedback on how to further improve our service, get in touch and we'll consider every little comment.