There was a time when choosing between a simple push-button doorbell and a brass knocker was the biggest decision you had to make about adorning your front door and making it possible for the postman to rouse you from your dreams. But now the choice of ways to alert you to someone at your door has risen in line with the sheer number of delivery companies that may come calling.
Choosing and installing a doorbell
If you like simplicity, then you can still get a very basic doorbell kit for under £10, which can be wired into the mains or work wirelessly using batteries. When pressed, the doorbell sets off the soundbox, which rings, chimes or plays Frère Jaques, depending on your selection when buying. Be assured that the postman will judge you for that choice.
Image source: Pinterest
If you want to be a tad more individual, or if you just get bored easily, then you can go online and purchase an MP3 doorbell. This means that you can upload the tunes of your choice to the doorbell, so that you can look cool when the supermarket delivery turns up, or embarrass your teenage children when you know they have a suitor calling.
These usually come pre-loaded with chimes and a few well-known tunes, from the national anthem to nursery rhymes. You simply hook it up to your music collection on your computer to allow you to upload tunes, much as you would when syncing a smartphone. These models also have the advantage of being able to turn them up loud as well as choosing a tune that you won't miss. You can also opt for an entry system that allows you to buzz people in, or to look at them on a camera that feeds back images onto a screen in your hallway or even on your phone or laptop.
Most modern doorbells are simple to install and all you need to do is to put a hook in to hang them from. If you choose a wired doorbell or chimes, it's good practice to consult an electrician.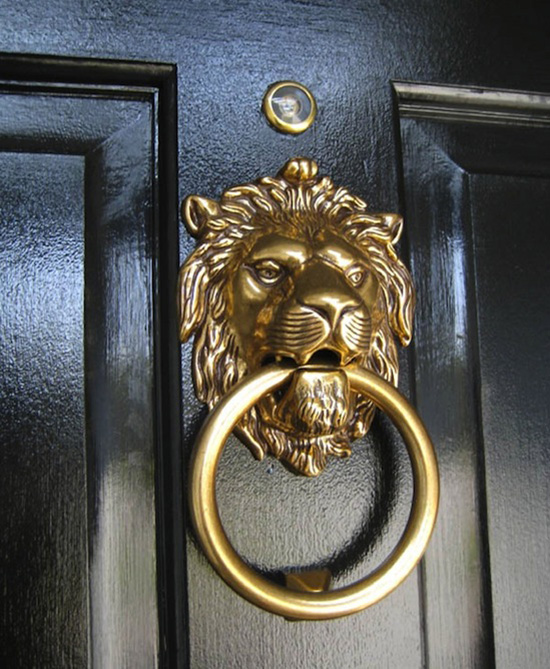 Image source: Pinterest
Most homes also have a door knocker, whether for looks or for the belt-and-braces approach lest the bell stop working. Again, these can vary widely in price, but even the most expensive options usually stop short of £100. You can choose from simple metal knockers or buy pricier iron or brass fittings, which can be made to order in any design you choose, from a lion's head or mermaid to a gargoyle or a fist that raps on your front door.
If you are buying an expensive brass or iron knocker then you will want to make sure you get one that fits to the door with bolts that run right through the door. Thieves can be inventive when it comes to getting their hands on valuable metals, so you really do need to make sure that your expensive purchase does not disappear.
Whoever fits the door knocker will need to measure up, choose a good site for the knocker and then drill through the door. Once the knocker is secure, you can trim any bolts that protrude back through the door frame on the inside. Simple, inexpensive knockers, on the other hand, may simply fit to the door with screws or nails that attach them to the front of doors.
If you are not confident with a drill and you worry about damaging your door, then call in a handyman to do the job. It should take no time for a professional to fit and they will make a tidy job of it.