Advice
Coco Chanel: French chic
Coco Chanel knew how to do French chic, so we took inspiration from her luxurious French apartment for some French styling tips.
Her apartment is above her couture salon/boutique and has no bedroom or kitchen; she slept in a suite at the Hotel Ritz and used her apartment as her office, where she drew her designs and had meetings. Despite being used as an office it has a homely elegant French feel – exactly what you would expect from Coco.
Coco knew how to create light in a room, she used mirrors to give the illusion of space. When it comes to size, bigger is better, they make great statement pieces and the rest of the room is enhanced by its reflection in the mirror. 
1. French Over Mantel Mirror from Very 2. Antique style mirror from Casa Nikita 3. Angle Wings Mirror from Graham & Green 4. White table mirror from Online Furniture UK 5. Mirrored disco ball from Acegadgets
She placed Chinese lacquered screens in front of the doors in her apartment. Screens were one of her favourite items to collect and are an iconic Chanel interior design statement. 
Chanel's apartment photos credit to: Interiorholic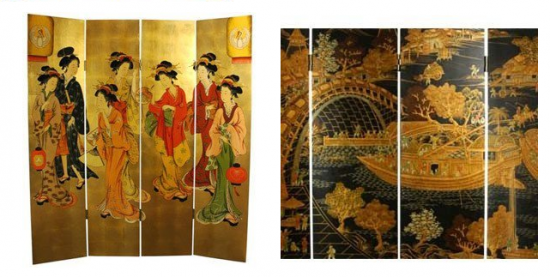 Oriental screens from Oriental Furniture 
Coco would also scatter coffee tables around rooms to create a relaxed feel that would also host her personal collectables and lucky charms. 
1.Oval coffee table with marble top from The French Furniture Company 2. Provencal coffee table from The French Furniture Company 3. Green gilt bench from La Maison Shabby Chic Furniture
And you can't get any more French than a chandelier; another great way to reflect light around a room and add a touch of elegance to even the most modest space.
Small Faceted Polished Gold Crystal Ceiling Lightfrom Amazingchandeliers.co.uk 2. Marie Therese 5 Lamp Red Crystal Chandelier from Amazingchandeliers.co.uk 3. Chella Cream 5-Light Chandelier from Laura Ashley 4. Rody Grauman's 85 Lamp Chandelier 5. Massey Modern 5-Light Chandelier 6. Vintage Circa 1950′s Coral Branch Chandelier from The Todd Merrill Collection
If you fancy yourself as the next Coco Chanel or just want to steal a bit of her style, don't risk breaking a nail or getting your hands dirty, focus on being elegant and chic while a Rated tradesman does the job for you. Getting a Rated Tradesman in will also ensure you end up with French chic, rather than shabby!
Post your job for free on RatedPeople.com to be put in contact with up to 3 quality, local tradesmen who will do the hard work for you while you pick out French style accessories.