Shut the refrigerator door because larders are back. Larders were traditionally used to keep foodstuffs fresher for longer but as suburban homes filled with trendy white goods in the 50s and 60s, larders (or pantries or cold rooms) were resolutely killed off, becoming dusty cupboards and dingy utility rooms full of sad old mops and pungent dog food.
Image source: Pinterest
Now that the country's obsession with nostalgic cooking is in full swing, larders have become a stylish, economical option for storage once again. Common fear over sell-by dates means we've got used to piling everything we buy into the fridge, but that only leads to a smelly, messy space where food mixes, or worse, moulds over.
MORE THAN 1600 5✭ RATED KITCHEN SPECIALISTS READY TO HELP WITH YOUR LARDER.
POST A JOB HERE
Thankfully, it doesn't take much to create your own larder, just ambition and confidence in keeping some foods outside the fridge. So trust in what your grandmother would have done and start storing a mix of dry and fresh goods in your pantry. Doing so will create a space that feels brimming with possibilities, snacks, meals and memories.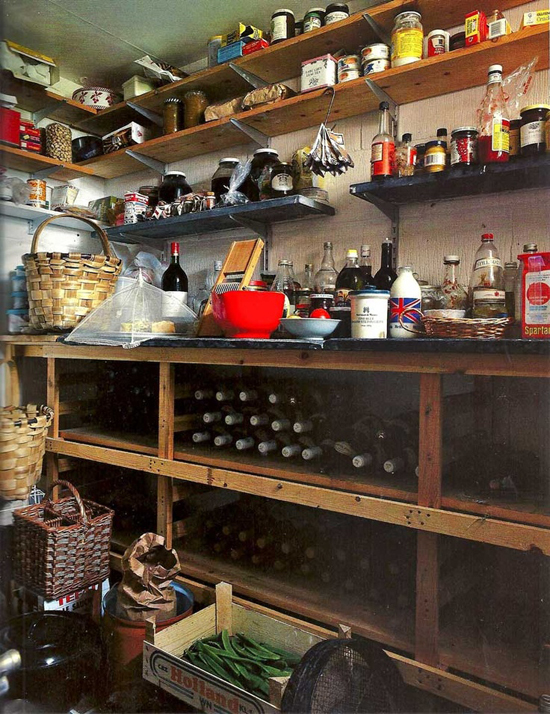 Image source: Pinterest
Space quest
Walk-in larders offer many benefits, such as keeping wine particularly well. Perhaps the biggest benefit, however, is space: turning a cupboard under the stairs or on the side of the kitchen into a pantry will give you an incredible amount of shelf space, freeing up your kitchen units for that ever-growing collection of plates, gadgets and glasses.
Cramming in all your preserves, sauces and tins may seem like a clutter-trap but a well-organised larder works to remind you of all you own. A larder is like a walk-in wardrobe but for your food: with enough space to display and organise your spices, jams and grains, you can see everything you own and plan your meals much better.
You won't be buying in a small tub of cinnamon only to discover you have three already.
Image source: Remodelista
In the winter months, a thoroughly cold larder, such as one outside in an insulated shed, can be used to keep milk and meat products properly chilled, if not frozen. Perfect for Christmas feasting. For the economically and/or environmentally minded, it's possible to switch off your fridge and rely solely on your larder, as was done before the advent of white goods. You'll need to achieve a base temperature of 4°C, which can be done but you should really bring in an expert to help you out. You'll save money on running your fridge, which can cost up to 12p an hour, and free up a large space in your kitchen.
The room
The perfect larder should be on the north-facing side of your property to minimise the amount of heat from the sun. Look for cupboards under stairs, at the side of kitchens, or near garages. At least one of the pantry walls should be an external wall of your property. If not, there's a good chance that your larder will heat up with the rest of your home. To keep it cool and stable inside, remove carpet, wood and insulation – anything that will retain heat. Bare stone or brick floors and walls are the ideal, while a door will help keep the coolness from leaking outside.
Image source: Remodelista
Shelving is very important too. Stone, such as marble, though more expensive than wood, is naturally cooler and will significantly help to keep the overall temperature down. If buying in a large chunk of marble, granite or even slate, consider covering the walls and floors with it.
Ventilation is another crucial way of reducing temperature. This could be a small, north-facing window. Removing a brick on two different walls or at two different heights will create draft but these and any windows should be covered with dark netting to keep sunlight, critters and rodents well away from your food. Any vents will need to be fully closable in winter to prevent freezing.
Image source: kararoselund
Once you've got your pantry, fill it. Larders are heaven for the jar obsessed. Rip off plastic packaging and shove it all in glass: it creates a wonderful, gleaming aesthetic that's both modern and classical. This serves a function too: jars keep food firmly locked up, so whatever's inside won't start affecting the taste and smell of other food nearby like in a fridge. For cheeses and preserved meats, paper is better than plastic. Finally, for the true foodie, hanging hooks are a must for drying out meats, mushrooms and even some fruit and vegetables.
Image Source: Whole Larder Love
When contemplating any property redesign, you need to consult a professional. Find a qualified and vetted kitchen specialist who can help you with your kitchen storage requirements.