Dutch painter Piet Mondrian divides opinion among art lovers, with some seeing him as a genius whose work was vital to the birth of modern art, design and architecture, and others believing him to be of the 'my infant could do that' persuasion. But with two major UK galleries (Tate Liverpool and Turner Contemporary) holding Mondrian exhibitions at the moment, it is hard to avoid his designs and paintings in the Sunday supplements or his influence in high street fashion.
Mondrian was a part of the De Stijl movement in Holland, whose functional and futuristic designs have undoubtedly shaped the landscape in Utrecht, Amsterdam and beyond. But it is the use of primary colour blocks that Mondrian and De Stijl became famous for and it's what they're most remembered for to this day. Everyone from fashion designer Yves Saint Laurent to rock band the White Stripes have paid tribute to Mondrian in their work.
Image Source: Studio International
What Mondrian illustrated was how well blocks of colour – especially the primary colours of blue, red and yellow – could work if used sparingly. The feature wall in block colour is very much an example of how Mondrian's design worked. Less is more. His fellow artists in De Stijl even started to design buildings with what are now seen as distinctive Mondrian motifs. They drew modernist blocks with squares of blue or yellow to highlight parts of the building and break the monotony of the blocks of white rendered concrete.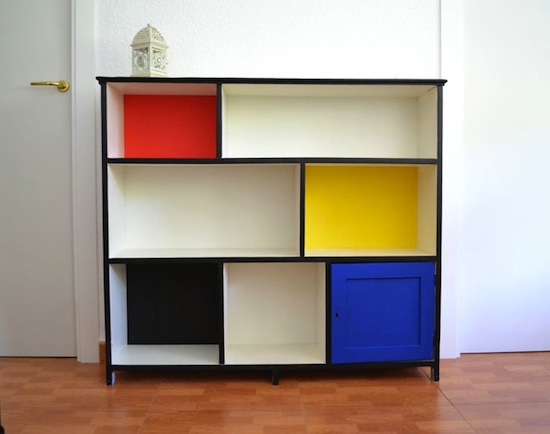 Image Source: Pinterest
Artistic home decor
Of course, the design rules that Mondrian initiated can be applied to your own artistic home decor too. Even a Victorian semi-detached house is likely to be brightened up by some Dutch-inspired colour blocking. The simple interpretation of Mondrian is to sketch out some squares on the wall and fill alternate ones with blocks of primary colour but the more astute home decorator can use these colours to highlight spots where light or shade falls in your home. A single statement wall in primary colour will make quite an impression. If you feel it is too bold then you can break it up by using it as a wall where you hang pictures.
Image Source: Pinterest
The simple blocky elements of Mondrian work well when you have squares to play with, so it can be used in the bathroom with your tiling, to brighten up the design of your kitchen doors or even to break up the bookshelves. There are few self-assembly bookshelves or sideboards that cannot be improved by highlighting some of the squares that the shelving creates in primary or other colours. You could even contrast your collection of orange-spined Penguin books with the blues of Mondrian or pick out white books with a yellow background.
Image Source: Pinterest
The Mondrian palette does have its limitations and it would take a really big fan to block out individual rooms in primary colours (although I am sure that there are some who could pull that off). If you are painting Mondrian-esque squares yourself then always be sure to tightly mask the edges for a sharp finish. Otherwise you could end up imitating Rothko which is a different story altogether.
For help making your artistic home decor visions a reality, post a job on Rated People in our Painter / Decorator category to receive quotes from our qualified and trusted tradesmen.