Advice
Designing your home office
Working from home is many people's idea of heaven. Not having to commute and having access to your own kettle and fridge is a privilege. Depending on the nature of your work, you may be able to sit in your pyjamas and work at ease.
While it has its benefits, the biggest drawback can be finding that work-life balance. It's all too easy to waste time online or watch your favourite television programme with your laptop/computer in front of you.
At the same time, you don't want to sacrifice one of the biggest advantages to working from home – comfort.
Tread carefully with colour
Your choice of colour will set the tone for your room so it's important to pick shades which will help you feel productive. Neutral shades of white, cream and grey will help you focus and if you're looking for motivation, purple could be the colour for you.
While cooler tones will be less distracting, steer clear of blue. It's a well known relaxer and you may find that mid afternoon slump a lot harder to overcome!
Image Source: Houzz
Bolder colours such as red, orange and yellow may provide energy but be wary of over-use as they can draw your eye towards them and away from your work. Stick to a few vibrant accessories if need be and make sure that they're not directly in your eyeline.
My top pick is green. It's a fresh colour that makes you feel both energised and peaceful. There's a reason why plants are welcome additions to offices. A touch of greenery can be enough to bring a sense of optimism to a working environment.
Image Source: Decoración y Diseño
Image Source: mydeco
Avoid the chaotic
Many of us are tempted to invest in edgy wallpaper, to give a room some personality. Don't fall into the busy wallpaper trap. It may look good on a roll but that liveliness will look chaotic once it's on your walls.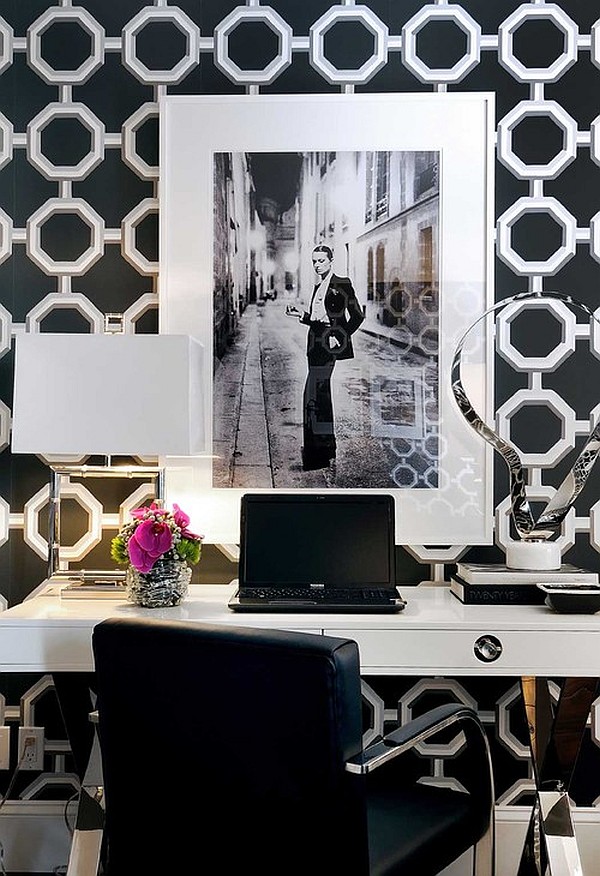 Image Source: decoist
Displaying your objects on wall shelving systems will help to create a less chaotic look. Make sure there is plenty of space around the objects that you'll be using the most. If your room is on the small size, be smart with your choice of desk.
There's no point buying the largest model that you can find if it will look imposing and make your work space appear constricting.
Image Source: Easy Living
Make use of natural lighting
Natural lighting will improve your mood and make you more inclined to work. Position your desk by a window and don't combine your bedroom with your office. Your bed will more than likely occupy the space by the window and this will leave you with inadequate working conditions. You don't want to make it too cosy a room that you forget to switch off and finish your working day either!
With careful consideration, you can easily create a home office that's both comfortable and practical.