No doubt you've come across a number of articles which promise to help you create drama in the dining room. Use bold colours to inject personality they say, or add a chandelier to bring elegance and glamour. That's all well and good but what about avoiding the other type of drama – the drama that would see your dining room looking too busy, or just not quite right for one reason or another?
A visitor or potential buyer might not recognise a bad design when they look at it but they will pick up on whether something doesn't feel right in the room. When designing your dining room, you need to go back to basics and consider each puzzle piece separately in order to work towards bringing the whole picture to life.
Location
Think about where the room is positioned within your home. The best rooms will sit next to the kitchen as nobody likes the idea of carrying plates through a hallway! It's also a good idea to have a bathroom close by and bedrooms as far away as possible.
Locating a living room off of the dining room is a good option, since many of us like to sink into our sofas after a big meal! To create flow and maximise space in your home, it's a good idea to open up the dining room so that you can see through to another main room in the home. Swap a solid internal door for a glass door or an archway.
Lighting
Lighting is a top priority in a room where you're going to be eating, drinking and talking to your friends and family. Chandeliers are a good choice as they remain suitable whether you're looking to create a relaxed family space or a more formal room that you rarely use except for when you have friends over. The American Lighting Association (ALA) has some handy advice for selecting a chandelier and avoiding an awkward head bumping scenario:
1) Choose a chandelier that's 6 inches narrower than the smallest width of your dining table. If your table is 48" x 72", then the width of the chandelier should be 36".
2) The chandelier should hang approximately 30" above the tabletop for an 8" ceiling. For every extra foot, add an inch. For a 10" ceiling, you should hang your chandelier approximately 32" above the table.
Sometimes, hanging an artificial light above your dinner plates can create a harsh glow. You can reduce this by opting for a downlight to focus light on a small light at the bottom of your chandelier, just as you can by fitting a dimmer switch to the light within the chandelier, enabling you to control the light levels manually.
It's important to consider how much natural light can enter your room too, as we all know that natural light is of a higher quality than attempting to recreate it artificially. Your windows should be as large as possible to let light filter through the panes of glass, however make sure that you don't install them on the western side of your home otherwise you may find the brightness of the sun uncomfortable as it sets while you're eating an evening meal.
Size
You can't always choose the size of your dining room but you can choose to make design decisions based on what you have to work with. The smaller the room, the more windows you should have and the lighter your décor scheme should be to prevent it from appearing too enclosed and claustrophobic. If creams and whites are too safe for you, pastels could be a great compromise for your walls – maintaining the lightness while allowing you to experiment with a range of colours.
If, however, the room is too large for your liking and you're struggling to create a cosy informal space, think about the size of your table along with the colour of your walls and the accessories that you're bringing into the room. There's no use opting for a lengthy table to balance out the room's size if it's only going to be used by four people but you could find that experimenting with darker colour hues and heavy curtains works for you. Floor lamps, potted plants or side cabinets will all help to prevent the room from looking too bare and devoid of character.
Furniture
Avoid creating unnecessary drama by paying attention to table size, making sure to leave a gap of at least 24" between a chair that's pulled up to the table and the edge of the room on all sides. You'll want to be able to easily move around the room, so make sure that any table lamps or other accessories don't force your family or friends to move so that you can reach a window, door or glasses from a side cabinet.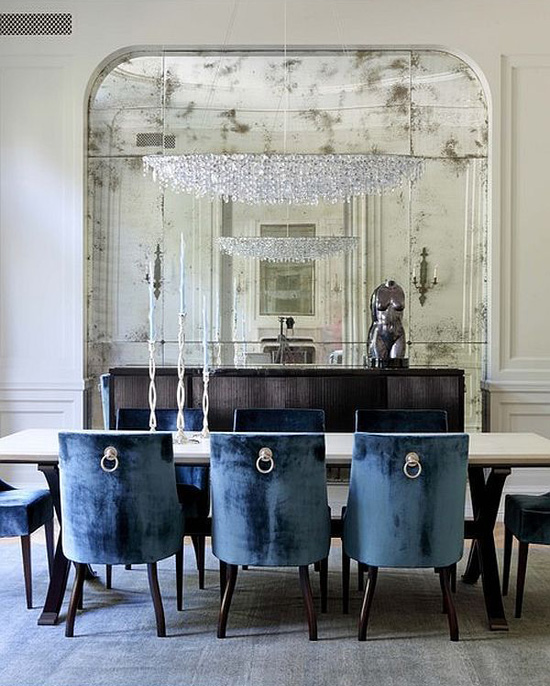 If different numbers of people are going to be using the room from week to week, an expandable table could be a great addition, however don't forget that extra space at the table will still require you to provide extra seating which you'll need to store when the table is not in use. You might find it just as easy to pick a dining table with two or three extra spaces for unexpected guests.
If you need help installing windows in your dining room, post your job and up to three window and conservatory specialists will get in touch to help. You'll be emailed links to their profile pages, containing their previous ratings, and be able to use these to help you decide who to hire.