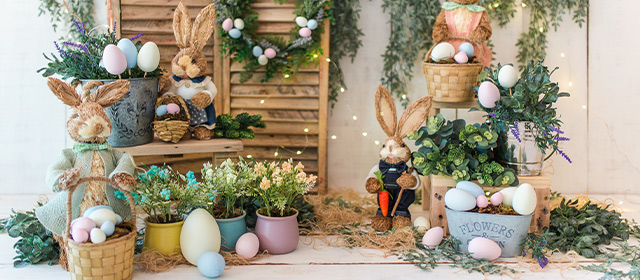 Spring has finally sprung – the birds are singing, the skies are blue and that extra hour of daylight is going to do wonders for the soul. And, we've got something that's going to brighten up your day even more.
With Easter just around the corner, now's the time to get the craft box out and get your creative juices flowing, because we're giving away a £150 cash prize for the best Easter scene.
Easter weekend is consistently one of the most popular weekends for DIY projects and home renovations. Maybe it's the longer days, the warmer weather or the race to get your space ready for summer. If you're feeling it too, get the whole family involved and hop to the challenge!
Here are some ideas to get you started
Overhead feature
Bring the outside in with an overhead feature above the dining table. This is a project that could use an extra pair of hands.
Painted or dyed eggs
Dye your eggs using onion skins or red cabbage.
Easter baskets
Decorate your plant pots and wicker baskets with eggs and bunnies.
Pastel shades
Easter is a celebration of new life, and pastel shades are a great way to breathe some back into your home.
Easter trees
Gather some twigs and embellish them with ribbons and eggs. Arrange them in your favourite vase to liven up your sideboard.
Bunting
Bunting is cheap and very, very cheerful. Think powder pink, blue and yellow hues.
Decorate the garden
The garden is often the home of the Easter egg hunt, so don't neglect it!
How to enter
Once you've finished your piece, give us a short video tour of your handy work or simply share your photos with us by tagging us on TikTok, Instagram, Facebook or Twitter @RatedPeople and use the hashtag #MyRatedEaster so we can see your entries.
Winners will be selected based on creativity, comedy value and commitment.

The competition closes on Friday 9th April 2021. You'd better crack on!