Advice
Faces in unusual places
Early last year, 56th Studio showcased Caricature Chairs, a creative hijacking project which saw the design studio make models of the Simpsons cast. This Autumn, our homes are set to partake in a new design trend – showcasing faces in chairs, furniture and accessories. These will range from full outlines to silhouettes. I can't help thinking that this is a trend that's been coming for a long time. Many of our buildings sport all sorts of faces, from happy to sad, if we look hard enough. While exterior buildings are the most common, you can find them inside too. Here are a few of my favourites to make you smile!
Mrs short hair with eyelashes
Overgrown greenery gives the effect of a bulbous nose while stripy window coverings bring eyelashes to life. The bottom half of the house isn't so impressive but with a top half this good, you can't really complain. I like how the roof edging resembles short spiky hair too!
Chimney stacks
Taking things literally these chimney stacks are all dressed up with nowhere to go. I wonder if we'll be upping our game of painting and decorating and hiring a tradesman to transform our exteriors very soon? Somehow I think this is a step too far out of our comfort zones. It's one best left for the public buildings and artists amongst us but you have to admit, it's striking.
The hand rail
There are always ways to follow the trend whether you live in a traditional four bed house or flat. The stairwell of this property follows the trend without even meaning to. Lights for eyes, stair rail for mouth. While you can't just go changing your stairwells surrounding a rented property, you could replicate the look with a bathroom rail or living room shelving inside. Just remember to hire a Part P registered electrician for any bathroom lighting installation work!
A moustache shelf
This is one of my favourites as the above fireplace shelving forms a moustache. Not that he seems too happy about it. If you look hard enough, the middle mounted stag head becomes the nose, while the two white lamps take on the role of the nostrils. As for the chandelier, well it could be a fringe, couldn't it?
Outdoors bench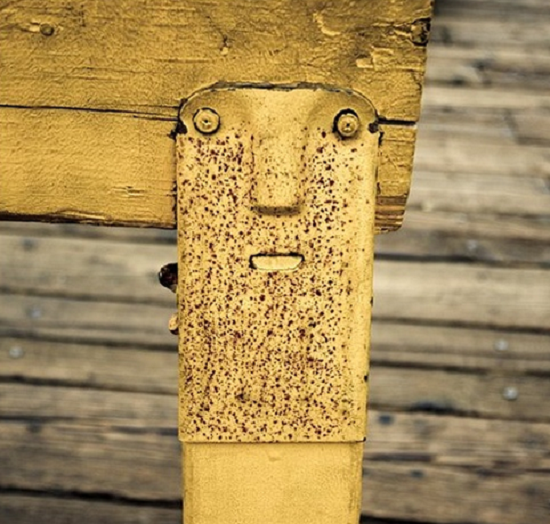 A garden bench is home to this non-plussed little creature. Often it's in the most unusual places that you'll spot a face. Screws become eyes but the paintjob could really do with a refresh to improve the skin on display. Or maybe let's just say he's got freckles?
One very suspicious home
At number six, we have the older period style property with a clever window design. The windows themselves become the slitted pupils, while the raised roof forms a sheltered covering, turning into a pair of eyelids. I'm not sure I'd be very keen on entering but it definitely makes for a good burglar repellent.
The mouse factor
Exposed brickwork takes on a new life as a mouse, with the help of black paint. While this is the work of the wonderful Banksy, it's not too hard to suppose it to be the work of a homeowner like you or I. I would never encourage leaving a project incomplete but if it were our handiwork, you'd have to praise the spark of creativity. It would make the wall less of an eyesore before it was re-plastered anyway!
They come as a pair
If you place two buildings side by side and blackout or open a few windows, you can have a bit of fun with their design. The left hand building doesn't seem at all that impressed with the right. In fact, it's a little shocked, while the right seems to be fed up of the left's dramatics. The positioning of the open windows is key to this facial display.
White but not alright
This minimalist build seems to have taken its precarious location to heart. Side lighting panels become ears while the bottom window is the real giveaway – a downturned mouth suggests he/she is afraid of a tumble down that slope.
Can you make out any faces in your own home? Send us a picture on Twitter or comment below with the details!