Advice
From Scrooge's place to Santa's grotto: scaling up home decoration
Christmas divides the nation. Most of us celebrate it in the traditional way – a turkey dinner with all the trimmings and a pile of presents underneath a Christmas tree. When it comes to decorating our homes though, we've all got our own beliefs and preferences.
For me, tinsel is a necessity. Without the sparkling garlands hanging on my tree, I can't seem to get into the Christmas spirit. For others though, tinsel is too tacky and they prefer a white tree with purple or blue baubles, rather than the traditional green and red colour scheme that you'll find in every Christmas film from Elf to The Grinch.
Every year, we see newspapers featuring the most impressive lighting displays. The latest trend, particularly in America, seems to be lights that flicker in time with a music track, like this.
Last month, an Australian family broke the world record for the largest number of lights used – 502, 165, with synchronised music and a display that needed to be started in October to be completed on time!
When it comes to our own homes though, how far do we go? We've created our own Christmas scale for you to see how yours measures up.
Scrooge's place
Scrooge's place is a home like no other at this time of year. Step inside this property and you'll find no trace that Christmas is around the corner. No fire roars in the grate, no mince pies are stocked in the cupboards and worst of all, there aren't any Christmas decorations up at all. The cards on the fireplace are probably from the last family birthday and the family are firm believers that window lights are a fire hazard that play havoc with your electricity bill. In fact, are you sure it's not March?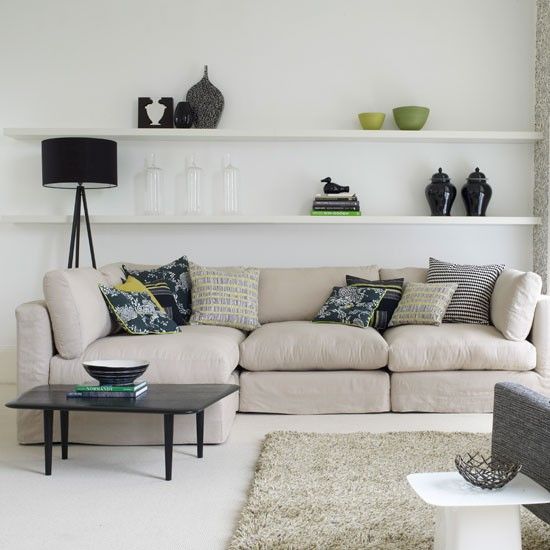 Image Source: House to Home
Love (it) Actually
Inviting, inviting, inviting. There is something about this home that attracts visitors. Nothing is minimal or exaggerated and all decoration fits with the overall style of the home. There may be bunting strung up on a feature wall, near little stockings hung above the fireplace (real or faux). A tree takes centre stage in the living room and it's decked out with everything from chocolates to those handmade ornaments that the children made years ago. You'll find those flashing icicle lights hanging underneath the gutters outside and a well placed star on the living room window or wreath on the front door.
Santa's grotto
Stepping inside this house is like stepping inside a time warp where it really is Christmas everyday for a few months. Of course, there's a tree and tinsel and lights – it's actually easier to point out what's missing. You'll find mistletoe in the hallway, lights on the garden benches and shrubs and the bane of all scrooges's everywhere – ceiling decorations! The best of the bunch tend to have tinsel on their stair handrails and be vying to beat that new world record for the most Christmas lights on a property.
How Christmassy is your home? Let us know by commenting below or getting in touch on Facebook and Twitter.