Advice
Bricks be gone: timber takes over
If you've paid attention to your newspapers lately, chances are you've seen the stories about the brick. If they're to be believed, we're experiencing a shortage of bricks thanks to a rocketing demand for new build homes. The average home needs 18,000 alone and according to the Chief Executive of Michelmersh Brick, we've only got 400 million left – enough for two months' worth of building at the current pace.
When anything's in demand, the price goes up and in this industry, we'd have supply delays to look forward to. There is a silver lining though – the timber frame is being touted as the product to dig us out of the hole by being cheaper and helping us to build quicker.
Are we about to make a U-turn right back to the Tudor period when timber was the thing to have?
Each Tudor house was built from local materials. The rich had brick mansions, the comfortable had timber-framed homes and the poor lived in huts with thatch roofs. It's hard to imagine now but wood was expensive so the timber framed homes would actually only be half timbered, with any gaps being filled with interwoven wooden twigs covered in a clay and dung mix!
We might be worried about losing our bricks and taking a step backwards in our building development, but wood isn't second or third class.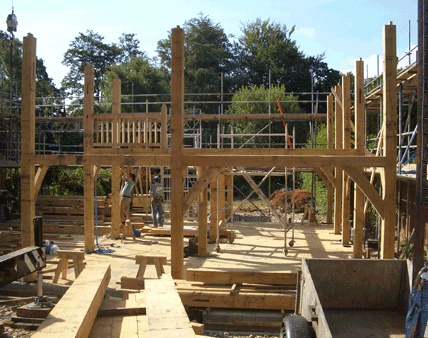 It absorbs carbon dioxide naturally, making it a carbon neutral material and it's sustainable because most of the timber used to build is approved by the Forest Stewardship Council. A softwood like Douglas Fir and oak can be regrown and hardwood trees aren't used at all, protecting the environment.
In some parts of the UK, you can come across Tudor builds and the fact that they're still standing speaks volumes about their longevity. They tend to outlast windows and roofs and we've now taken to treating them with a preservative in the UK to prevent any of the old problems with damp causing rot in cavities. Our fire resistance wouldn't be comprised either, with the cavity barriers and plasterboard lining making sure we don't go up in smoke.
There's no denying that they're visually stunning and we've long appreciated hand craftsmanship in the UK. As long as we have plenty of builders who are skilled in working with timber, perhaps the brick shortage won't be so bad after all…
Does the timber frame fill you with dread or would you happily swap bricks for timber? Let us know by commenting below or getting in touch on Facebook or Twitter!