Since we don't spend as much time in our bathrooms as we do in our bedrooms, the lovely lavatory is often in need of an overhaul. It might not be desirable to spend money on loo roll holders or a shower curtain (that most likely will develop a pink-ish colour within a couple of months anyway), but think about it, a nice bathroom can be a real sanctuary. It can also be a place to host fun gadgets. Have a look at what we've found in this week's Gadget Zone.
The iDuck floating wireless speaker will kill off all potential off tune singing in the shower. A relief for neighbours and family members. Connect your Mp3 player to a wireless egg-shaped transmitter (preferably far away from the bath tub) and the rubber duck will play through all your playlists. Listening to the radio is a possibility too. Pavarotti or Prince?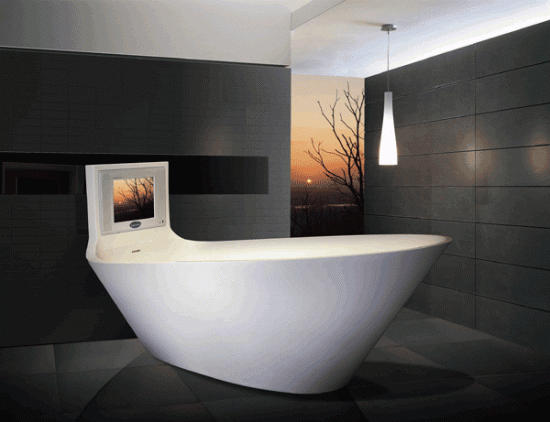 Afraid to miss Man U scoring while you're taking a dip? Designer Karim Rashid has identified this fear and developed a bath tub (together with The Saturn Bath Company of Korea) with a built-in LCD screen. The TV screen is waterproof as can be expected.
Have you ever come up with a stellar idea when taking a shower, while brushing your teeth or shaving? And forgotten all about it the moment you stepped out of the bathroom? Enter the Waterproof Notebook. Equipped with a graphite pencil and 80 non-smudge pages, it's the shower saviour.
Something that can minimise tooth brushing time is always a winner with us. The Twist & Brush is a tooth brush with built-in toothpaste. It was originally was designed for avid travellers, but we think it will work just as well in our bathrooms. Twist the grip to fill the bristles and off you go!
The last gadget to finish off this post is a rather nifty idea if you're short on bathroom space (and who isn't?). Air dry your laundry with this Window Mounted Drying Rack, which can be attached with sturdy suction cups on shower doors, mirrors or wall tiles. The rack can handle 25 pounds of wet clothes, which is no mean feat.
With nice gadgets comes a nice bathroom. Planning on redoing yours? Get in touch with a bathroom specialist on Ratedpeople.com. Post your job for free and up to three quality, local tradesmen will contact you with a quote.
FIND A BATHROOM FITTER
---