Jude Law fans look away – he is not at his finest. Alternatively, just focus on the lavish Russian aristocratic style of the Anna Karenina film set. It oozes opulence, we can't help but romanticise this look. Perhaps it's Keira Knightley pouting whilst decorated with diamonds, but there is something charming about the cold Russian look. Inject a bit of Karenina's style and I think you could warm up any interior.
I should warn you of the old Russian saying "renovation is worse than fire", but let's forget that for now and move on to the fundamentals of Russian style: velvet, brocade and a token piano. Minimalists need not read on. This look is about accessories, of which you can never have too many.
As Anna Karenina is about the life of the Russian aristocracy (and the forbidden love between a married woman and the handsome Count Vronsky), the film will obviously focus on the of the riches of the upper class. We don't mind the slightest. No one can do bling like the Russians and clearly, even in the 20th century, they were way ahead of the rest. It's no wonder that in the midst of a recession the most decadent film appears, it's fantastic escapism. I'm sure Russian fur hats will fly off the shelves this season.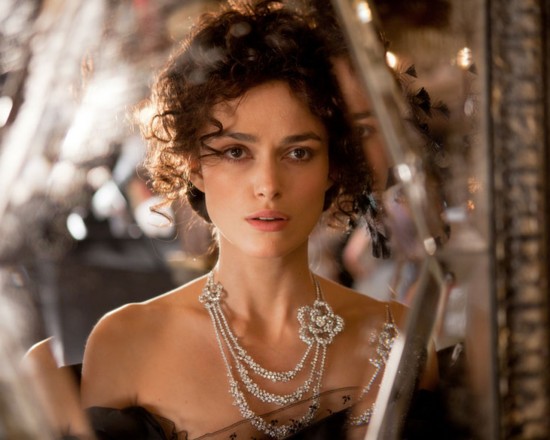 Image: Pride & Prejudice Blog
Inspired by the poster, anything that glitters goes. Chandeliers and gold, you can't have too much of the stuff. The uniqueness and beauty of an object took precedence over its functional value, so it's all about details. We expect that the film must've had an enormous budget!
Image: Pinterest
This looks takes dedication (and cash) – there's no half measures when you've got decadence in mind. And if in doubt (probably wise unless your home has the grand proportions needed to showcase this look) the  Doctor Zhivago shabby chic style is easier to execute and less garish.