If your house is too small, or the rooms just aren't working for the way you want to live these days, you might be contemplating a move. However, upping sticks can be stressful, it certainly isn't cheap, and – if you're living in a location you love – it might be a wrench. Before you resort to putting up a for-sale board, take a look at our guide to the projects that could help you stay put and have the space and layout that you want.
Home improvement: Single-storey extension
Image source: Houzz
If your downstairs living area isn't big enough, a single-storey extension can make an amazing difference. In the past, these extensions tended to create an extra room that could function well as a separate space but did nothing for the ground-floor layout and could make existing rooms darker.
By contrast, today's extensions are often used to create more open schemes, such as a kitchen-diner, or kitchen-dining-living space, by opening an existing room fully to a new extension. This way, as well as gaining a large informal and sociable room, your home could have a better connection to the garden and more light throughout the ground floor.
*When you're planning an extension, think about working with an architectural designer as well as a builder to help you maximise the potential of the work.
*Bear in mind that building under the permitted development rules means you won't need to apply for planning permission.
*Check out bifolding and sliding doors that'll allow you to open your new space to the garden in good weather and improve views year-round.
Home improvement: Two-storey extension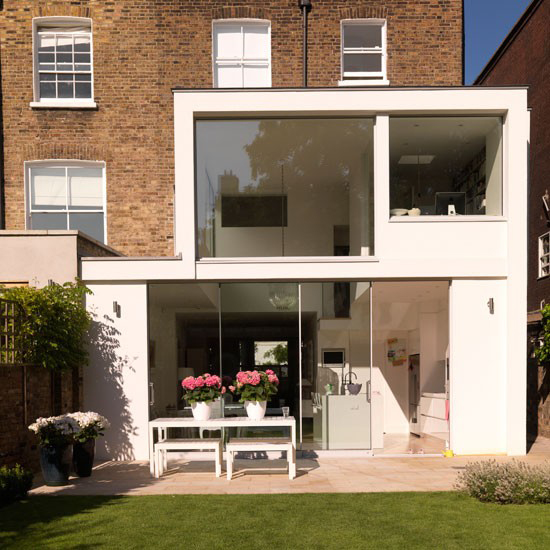 Image source: House to Home via Pinterest
It's obvious that a two-storey extension will give you more space on two floors of your home, but it can also help you create a good balance between the number of bedrooms and the living spaces that'll make it appealing to buyers when you eventually move on.
A two-storey extension will usually cost less per square metre than a single-storey design, so it can mean double the floor space without doubling your costs. Bear in mind, though, that you will need to budget for the fit out of your rooms as well as the build costs. If you're adding an extra bathroom as well as bedroom(s), for example, factor this in.
*Two-storey extensions are often built at the back of a house, but if your home is on a corner plot, the side may offer an alternative location.
*Upstairs, be creative. A master suite with a shower room and dressing area may be more useful than two more bedrooms, for example.
*If your home's looks leave a lot to be desired, a two-storey extension could be part of a total makeover that changes the form and finish of the entire house.
Home improvement: Loft conversion
Image source: Love Chic Living via Pinterest
If your attic is home to suitcases and spiders, a lot of potential space is going to waste. The area could be used for bedroom(s) and a bathroom, or other rooms that can make a family home function more harmoniously – a home office, a playroom, a TV/home cinema area and so on.
Loft specialists can help you design the space whether it's a simple conversion with roof windows, or it includes dormer windows to add volume. Be aware that the position of the staircase needs careful planning to make the most of the new space.
*Don't forget to plan in sufficient concealed storage so you can still put away anything you've been keeping in the loft up until now that doesn't have a better home elsewhere in the house.
*You may be able to convert your loft without the necessity for planning permission under the permitted development rules: find out more on the planning portal.
*If there isn't enough headroom in the loft, it's possible to lower ceilings on the floor below but costs will increase.
Home improvement: Garage conversion
Image source: Houzz
When you need more room inside your home and your car's always parked in the drive, it's time to consider whether your garage would be more useful as living space. You could create a guest room or an office, for example, or knock through to expand an existing room.
The state of the garage will influence your final costs: an integral structure will probably need less work to turn it into part of your home than an attached version. When you're planning the project be aware that long, narrow single garages can present a challenge, potentially creating an awkward room shape.
*Think about whether keeping the front part of a garage as storage accessed via the garage door will be useful – this can also create a more functional room shape behind the storage area.
*Different generations of adults living under one roof? A garage converted to bedroom and ensuite could create some welcome separation.
*Consider using a converted garage (or part of it) as a utility room so you can take the washing machine out of a kitchen-diner.