The front door is usually the first thing that people notice when they look at a home. Our front door colour and design says something about our tastes and the impression we are trying to make. In a row of identical terraced or semi-detached houses, front doors are often our only chance to stamp our individuality. They are also one of the most important security features of our houses and flats, providing the main barrier between the street, our possessions and anyone who wants to get their hands on them.
Open windows might be the way that many burglars make their way into houses, but just as many walk through the front door. Walk down your own street and look at the front doors on show there. Design and colour aside they may look much of a muchness to you, but anyone with an eye on parting you from your laptop, television or jewellery will view them quite differently.
In most cases you can probably have a decent guess at how solid or strong a door is just by looking at it. A burglar can certainly tell. But you will be surprised at how many homeowners seek to scrimp on costs and compromise security, often using an internal door as their front door. If you take a look around your neighbourhood you are bound to spot at least one. These hollow doors are quite different from external doors and will yield to even the most half-hearted kick.
When choosing a new front door, for your own protection, you have to be sure that you are purchasing the right kind of door and have it fitted with all the right security measures. Curb appeal can easily go hand in hand with strength, although you will find that you get what you pay for when buying a door or having a door frame, locks or security features fitted.
Any good DIY outlet, carpenter or joiner should be able to advise you choosing a new front door, with security experts also being a good place to start. Oak, hardwood or composite doors are the strongest, although you can get expensive steel doors to go the extra mile if you really want to be secure. These cost around twice as much as conventional doors and are far heavier than wooden or composite doors, but you can be sure that no one will be kicking them down in a hurry. Most come with steel door frames and multi-point locks, making them all but impenetrable.
Most will come with all the hinges and extras that you need to hang them as well as locking systems already installed. Extras such as security lighting, door chains or spy-holes are also worth thinking about to make you feel safer in your home.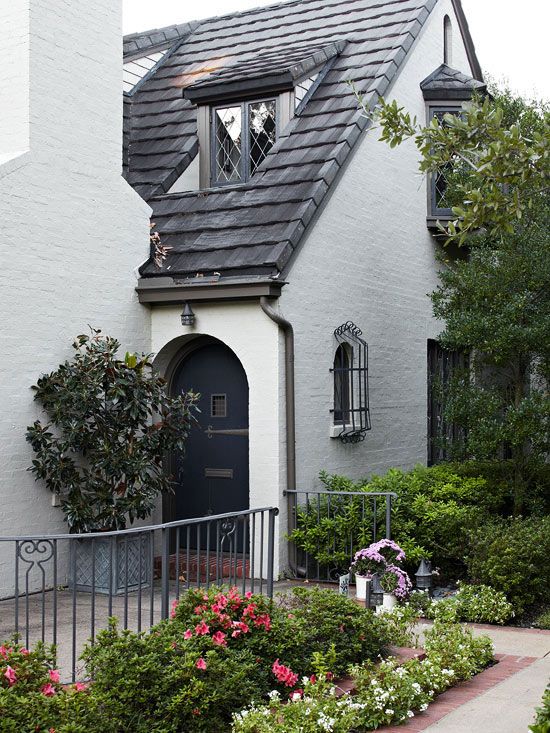 Make sure that the door has a good mortice lock installed or the ability to install one, as these are often the locks that insurers insist upon. Although, you should always remember that the more wood you carve out from a door to install locks the weaker it becomes.
One way around this is to have a security expert round to fit London and Birmingham Bars, which strengthen your door frame and can allow you to have multiple locking points within it. You may even find that your insurer will reduce the cost of your policy if you have such measures installed. If you have a composite door then it may already come with locks that contact the door frame at various points.
Image Source: Better Homes and Gardens
Of course, the look of the door is very important too, especially as you will probably be looking at it every day for the next few years. Hardwood doors are best if you want to have the paint finish of your choice, as many composite doors will not take paint well. That said, some modern composite doors are made to look like older, painted wooden doors.
Toughened security glass is advisable if you're searching for a door that is not just solid wood. This is especially relevant for fitting a door in keeping with the style of a Victorian or 1930s home. These homes look magnificent with doors have glass in to suit the era, but glass can be a weak point in the door itself. A good joiner should be able to retro-fit safety glass into period or reclaimed doors, meaning that you get the period look you are after with added security. The difference in light in your hallway will be worth the modifications  and you can rest safe, knowing that no one can simply elbow their way into your home.
If you need help designing or installing a new front door for your home, post your job and up to three carpenters / joiners will get in touch to quote on your job. You'll be able to view their individual profiles, complete with previous customer recommendations, to help you decide who to hire.