There are more flooring options available on the high street than ever before. Whether it's the real deal or a great imitation, there are affordable stylish options to suite every taste, requirement and budget. However, with more options to choose from, choosing the perfect flooring in terms of practicality, style and budget can be a headache.
The most popular options are carpet and wood/wood-effect hard flooring. A good way to narrow it down is to the start with the practicalities: consider what area of your home the floor covering is for.
Flooring ideas for stairs and hallways
Hallways are often over looked – the forgotten room – and end up being treated like a corridor. Flooring choices in hallways and stair cases are important to get right, not just because they are the first things that people see when they enter your house, first impressions count, but they are the highest traffic areas that need to be able to withstand the test of time and general wear and tear.
Carpets are graded on their durability, if you choose to carpet high traffic areas always choose one that is graded for heavy to very heavy domestic use. These heavier duty carpets are more expense, but they are more likely to stand the test of time and will need to be replaced less frequently.
Now for the fun bit: the colour and design. If you decide to carpet your hallway or stairs, neutral or patterns are the best for hiding dirt. Staircases are also a great place to have some fun with pattern and colour, in such a small space you can play with designs that would overwhelm bigger spaces. Stripes look great on stair runners, but remember that not all carpets are safe to be used on stairs so check with your tradesmen before you order.
Hard flooring is a practical and increasingly popular choice for high traffic areas such as hallways. Solid wood and engineered wood (several layers of wood suck together for additional strength), are considered good investments which can be both traditional or contemporary. If your budget won't stretch to real wood, a good quality laminate is a great low maintenance alternative. You can also read our guide to wooden flooring.
Flooring ideas for living rooms
Neutral coloured carpets still rein supreme as the most popular carpet colour choice. By investing in a good quality one you will have a floor covering that will last for years, whatever the current colour trend may be.
To add more interest to a neutral carpet, many are now woven in stripes and patterns to create variations in tone. If you have pets it is advisable to opt for a carpet with a flecked appearance to hide the inevitable marks.
Hard wood floors work well when used through-out the ground floor, as a continuous floor creates the illusion of space. However, for more relaxed rooms, rugs are a great way to create interest and warmth in a room – remember to use an underlay to stop the rug slipping around. Top 5 flooring questions answered by our experts.
Flooring ideas for bedrooms
This is where texture matters, deep-pile, velvet and even shag-pile, are indulgent and perfectly suited to the bedroom. On the other hand, when carpeting a child's room, it is best either not to speed much money and choose a darker colour or invest in a heavy duty domestic wear carpet that can cope with a few accidents and spillages.
Hard flooring is less popular in bedrooms, if you decide to lay a hard wood compensate with deep pile rugs by the bed.
Flooring ideas for bathrooms
Once popular and common place, mention carpet in the bathroom now and most people are likely to cringe. It's unhygienic and hard to keep clean, making it inferior to hard flooring. If you want to add some warmth and texture, rugs are a much better option than carpet.
Vinyl is another great alternative, it's water proof and warm underfoot, and the soft vinyl is often very reasonably priced.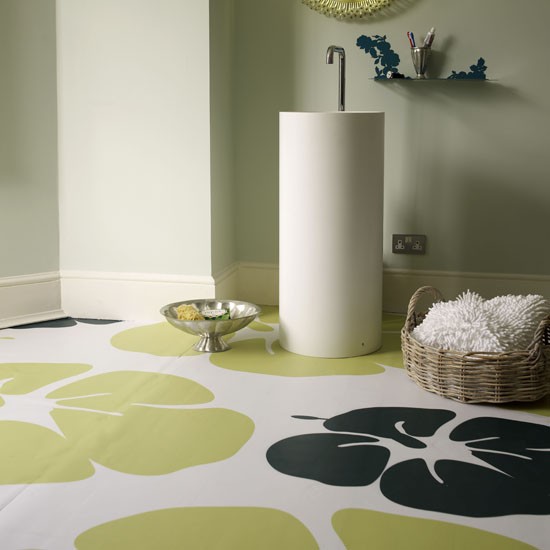 Whatever flooring you decide upon, to ensure it looks great and lasts for as long as possible, have it fitted professionally. We have thousands of quality, local floor fitters who will not only do a great job laying your new floor, but who can also advice you on which flooring options will work best in your home, as well as after care advice to make sure it stays looking great for years.
To find a local tradesman in your area post your job for free. We will put you in contact with up to 3 tradesmen who will quote for your job. You can read their ratings and reviews from previous customers and select the right one for you. Once your tradesman has completed the work make sure you rate him, to help other homeowners in your area to find their next tradesman.