Avoiding traffic jams and I-didn't-want-to-know-you-this-intimately train carriages are huge benefits of working from home, but never completely getting away from your work is a downside. If your PC and paperwork are there in the living room when you want to relax, or have to be hastily concealed when the guest bedroom is needed for its original purpose, your job can get you down. To physically separate your job and home life, why not think about taking your office into the garden?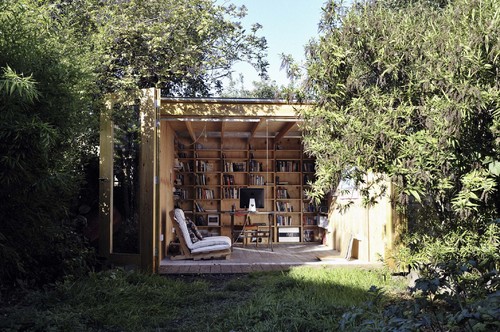 Follow the rules
Planning permission isn't generally required to put up what the rules call an 'outbuilding' because it's considered to be permitted development. Do check your local planning department's view on your proposed home office building, though, especially if you propose to work there constantly rather than just from time to time. Note, too, that if your house is listed, in a conservation area, or an area of outstanding national beauty, you will need planning consent.
You would also have to follow the rules on size and position for your building to be considered permitted development. These include the requirements that your office isn't in front of the building line; has a maximum overall height of 4 metres with a dual pitched roof, and 3 metres for any other roof; has a maximum eaves height of 2.5 metres; and has a maximum height of 2.5 metres if the building is within 2 metres of a boundary.
Good working conditions
Unless you're only going to use your garden office in daylight hours in the right weather conditions – yes, that's not very often – it needs be much more than a summerhouse or shed with a desk. A modern office will need electricity for lighting, PCs and printers, good insulation, heating, and adequate ventilation so it's comfortable year-round.
When you're getting quotations from suppliers it's a good idea to find out whether all this will be managed for you as part of the job. Ask if you can visit some previous projects, too, so you can check out the working conditions for yourself.
Think about security for your home office when it's not in use as well. You'll need sound locks for doors and windows to protect your equipment. National police project Secured by Design offers detailed advice.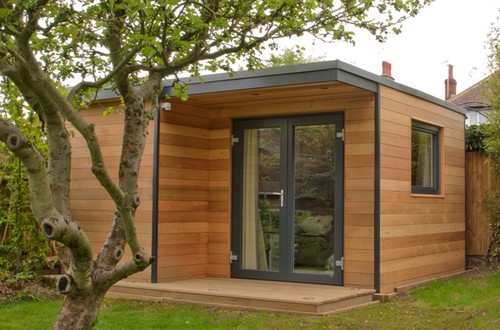 Types of building
Even a small garden office will have an impact on the appearance of your house and garden, so consider the look as well as the practical aspects of your workspace. You could go for a classic summerhouse-style design that won't betray its function. As an alternative, think about creating a contrast with your home's architecture by choosing an angular contemporary design.
An office with a natural wood finish will look immediately at home in your garden, but a painted exterior can create clever effects. A lively shade will make it a standout feature, or try a soft shade of green or blue to complement planting and blend the office into the garden.
Image source: Henley Garden Rooms
Interior style
If you're going to be spending long hours in your new working environment, it needs to look good from the inside, too. Decide how much desk and storage space you'll require when you're choosing your building so the office doesn't become cluttered. Plan for the amount of paperwork or reference material you may build up in the future rather than just what you own now. Modular storage units can be a good option, so you can add extras as your records build up – there's no going back on the floor area, though, so pick an office design into which they can expand as necessary.
Dress the windows of your office so you can control the light to make working comfortable even on the brightest summer days. Venetian blinds allow subtler light regulation than do rollers or Romans to prevent glare on screens.
As well as overhead lighting, you'll need task lighting for your desk, and for any other areas in the room where you'll do close working. Table or floorstanding lights in each of these spaces will help give your room a stylish finish and spare you headaches.
The garden view from your office will create an environment that's more stimulating than your average open-plan office building. Even the best-planned plots have duller months, though, so try to include wall space for artwork. A more comfortable armchair where you can take a break from the keyboard with patterned upholstery or cushions, and a rug on the floor will also make for an interesting and stimulating interior scheme far removed from a grey cubicle.