There are different opinions in the office whether going to the cinema is a yay or a nay. I'm of the personal opinion that going to the cinema is an unbeatable experience and that it's part of the package listening to others rummaging through their popcorn bags. However, I do sympathise with those that can't stand the prices, the sticky floors or noisy neighbours.
So what's the solution? Build your own home cinema.
How to build a home cinema
If you've got a spare room (preferably in the basement without windows), creating a home cinema is an exciting project. Sure, it's pricey but if you're a keen cineast it might be well worth it.
Invest in good blinds for the windows or thick, dark curtains that can lock out the bright lights. Nothing is more annoying than watching Al Pacino with a halo coming from the outside sun. If you have plans of converting the garage, this is a perfect dedicated space and will have minimal light bleeding. Painting the walls in a neutral colour (dark brown, beige) can be another alternative to avoid light to reflect on the walls and it will additionally improve the color accuracy of the TV screen.
Another key factor to spend money on is noise limiting and soundproofing techniques as you don't want to disturb the neighbours, or the rest of the house. Acoustic tiles and carpeted floors are great sound absorbing surfaces, and should help maintain a good audio environment. As you probably want to take full advantage of your home cinema (meaning high volume levels) you should think about insulating the ceiling too. Velour cloth or drapes  for the walls can also be utilised for both audio and aesthetic purposes, as it will achieve that old school cinema feel.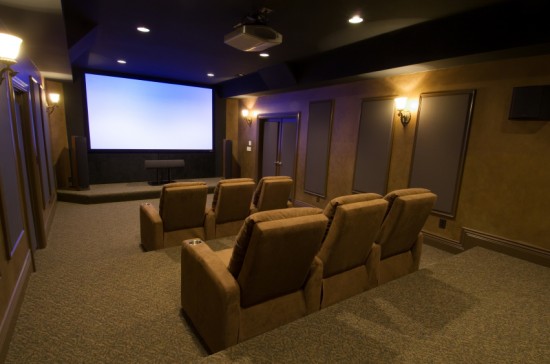 If you want to go all out with your project, we can only recommend installing proper cinema seating in tiered levels, as you don't want tall uncle Frank's head to be in the way. A heightened platform is something to consider, and you need to think about how many seats your space can accommodate. The 'more the merrier' the saying goes, but in this case it can become frightfully expensive.
Whether to go for a  flat screen, a widescreen HDTV or an HD projector is totally your call and there are plenty of guides that will tell you what the best one is. I would worry more about the seats. There are, of course, a great selection of these too, but surely the best choice would be big reclining chairs in buttery soft leather. These chairs will really make a difference when sitting down for a marathon film night. No stiff necks or sore backsides whatsoever to worry about. Now that's what makes a a trip to the cinema unappealing.
Creating a home cinema room is really about budget and space. If you can afford a media room (it can also be used for TV games and sport screenings), there's really no point in cutting corners and getting things done cheaply. Get in real tradesmen and certified AV-installers and you can sleep much better at night, knowing someone qualified will do the job for you.
If  you have plans of transforming a spare room, converting your garage or basement, get in touch with our Rated People to receive quotes from our trusted tradespeople for help building your very own home cinema.