Feeling inspired by Fiona Fullerton's first blog post, A landlord's Christmas tale, I decided to get into the Christmas spirit and decorate a Christmas tree. The result wasn't bad, but the process was rather long winded. To avoid a festive décor disaster, read on…
1. Even Christmas trees have a best side: if your tree isn't full all the way around, make sure its fullest side is facing where it will be most visible. This one was purchased without consulting the previous blog post, How to chose the perfect Christmas tree, and as a result it is rather too short and fat for its location. And you should also avoid placing your tree next to a radiator.
The tree is a Blue Spruce, chosen for its strong limbs that can hold heavy ornaments and its lovely blue foliage, which can also appear silvery.
2. Light it up: this is always the boring bit that needs to be done first – before you can have any fun with baubles – unravelling last year's tangle of lights is frustrating at best. It's worth noting that you should check that your lights are working before tangling them around your Christmas tree, also keep them lit while you're arranging them. I learnt this the hard way. If you break a bulb in the process – and the lights aren't switched on – you'll have to take them all off again to find and replace the broken bulb.
To avoid a tangled mess of lights, start by attaching the first bulb to the uppermost branch and continue to work the lights down in a spiral through the branches, making sure the bulb-less end of the wire ends up near the back of the tree.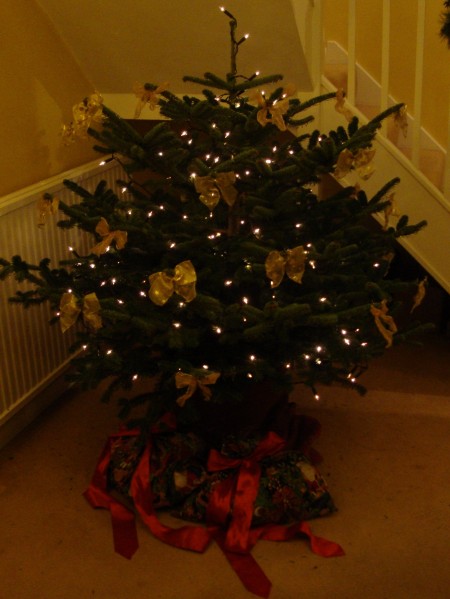 3. Decorating: Finally, 1 hour later, after changing the fuse and rewiring the plug – all unnecessarily – and finally discovering the broken bulb, it was time to have some fun. Bring on the baubles.
Begin by deciding on a colour scheme. Reds, golds, silvers and whites all look good as a single colour scheme or as a combination.  I went for gold, it's classic and I figured that it was a pretty safe option, based on the fact that Fiona Fullerton's silver colour scheme looks great.
Select the largest of your decorations and attach them to the longest branches, while spacing them evenly around the tree. I chose bows – they're light so they don't make the branches sag.
Do the same for smaller decorations, arranging them evenly around the tree, and put sentimental decorations in pride of place near the top of the tree.
No tinsel here thank you. Tinsel, it's not for me. Some people don't like the sound of polystyrene rubbing together. I don't like tinsel. But, whether you're a tinsel lover, or not, now is the time to add a garland. I chose these pretty little stars, they add some sparkle without the tackiness of tinsel.
Now for the finale, the star or the fairy. She's not a looker, but she goes with the gold theme.
Unfortunately our tradesmen can't help you decorate your Christmas tree, but if you decide you want to decorate your house in the New Year, post your job on RatedPeople.com and we'll put you in contact with up to 3 quality, local tradesmen. Read their reviews online and select the right one for you, and when s/he has completed the job, don't forget to rate them.