If you have a flat with a balcony, I envy you. There's nothing worse than sitting inside, knowing that the sun is shining but that you have to step out onto the street to access it. Whenever I walk past balconies that are neglected I feel that it's such a waste; why don't homeowners take care of something that's so easy to look after? Transforming a small outside space is a piece of cake nowadays, especially as there are so many websites and shops that cater for urban gardeners. So what can you do?
Image source: A Mad Tea Party With Alis
First of all, if you have a balcony with a fence/balustrade with flaky paint, re-paint it! This will give an immediate face lift and add kerb appeal to your exterior. Then clear out the space from any outdoor furniture and clean the floor. Whether you've got a timber or concrete floor, chances are that they have algae or moss growing on them.
Image source: Homedit 
When you choose your furniture make sure they can stand withstand the great British weather. My neighbours bought a nice furniture set and added plush, white sitting cushions to finish the style. However, 3 months down the line they haven't brought the cushions inside once and instead of being creamy white, they have become mouldy. As it's a bit of a hassle to bring cushions in and out every day, buy a storage box and you don't have to find valuable space inside.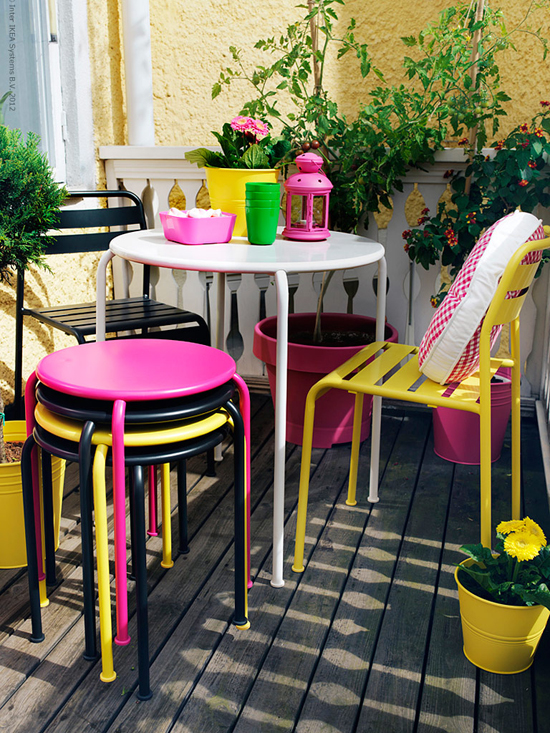 Image source: At Home
Obviously, balconies can look good without flowers and plants, but then they need plenty of other details. It can look a bit sparse with just a black iron-wrought table and chair. Lanterns, bird bath, deckchairs and bunting can make a balcony looks so pleasant, you always want to sit there. My mother has astroturf on her balcony and it certainly looks cheerful.
Image source: Design Decor Staging
In terms of flowers, the more the better I would say, but that's because I really like flowers. If your balcony lacks space, invest in hanging baskets, grow vegetables from containers and stick to small flowers such as pansies or clematis. Boxwood balls are a popular choice to get some privacy and keep the noise out from the outside road.  It's all a matter of personal taste; only one thing, don't let that balcony go unused!