Designing a kitchen is probably the most enjoyable part of re-doing your house or flat as the room is so focal to your home and comes with so many customisable options. But with such a wide range of choice it's easy to forget that the kitchen's most basic and important function is cooking. Designing it with this in mind can have a dramatic effect on your daily dishes.
A good kitchen makes for good cooking. It's that simple. A cluttered, disorganised and awkward space is a frustrating thing.
Image source: Pixabay
So how to design a kitchen for cooking? It's all about small considerations that add up, whether it's those few steps saved from sink to fridge or the easiness of pulling a frying pan off a hook. Surprisingly, size doesn't matter for a cook's kitchen. In fact, there are many benefits to having a smaller one: easier access to your equipment and less time spent walking around trying to find a ladle. It's about layout.
Layout
Let's begin with the basics: the kitchen triangle, which still stands as the best choice for layout when it comes to any kitchen. The kitchen triangle is the idea that the sink, stove and refrigerator – the most commonly used parts of a kitchen when cooking – are close to one another, positioned as three points of a triangle with the sink preferably in the middle. For the cook, this means accessibility to what's needed and fewer steps: hop to the fridge, pull out some tomatoes, turn around and wash them in the sink before taking a step to the stove and placing them in the pan.
An island shouldn't block this free-flowing triangle, which is about easy movement. For the triangle system to work, there shouldn't be too much distance between each point too. The benefits of a triangular kitchen are really quite profound; use one and you'll be a convert.
Image source: Maggie Stephens via Flickr
As already stated, a kitchen that cooks well is a kitchen that's organised. The term used by chefs, mise en place, meaning the proper organisation and arranging of ingredients before starting cooking, applies to kitchen design as well. Have frequently used items such as knives, utensils, pans and pots within easy reaching distance. Be honest about what you use: if you find yourself whizzing the blender most days, keep it out and not in a cupboard where pulling it out everyday becomes a chore. Hanging racks and magnetic holders are an excellent choice to save space while offering accessibility.
Image source: Pixabay
Then, maximise workspace. A large counter is crucial: nothing messes up cooking like having to chop and whisk on a small surface with ingredients flying everywhere. Give yourself as much counter space as possible by opting for added depth; plan for a good few inches, minimum. A shallow counter laden with a kettle, toaster and decorative pasta in jars means your workspace, then mind and finally dish will all become messy.
Accessories
This is the fun bit: choosing the gadgets and additions that benefit your cooking and impress your guests. Top choice for the food-obsessed: a second sink.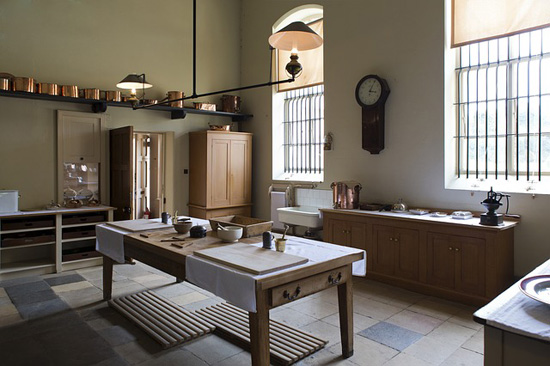 Image source: Pixabay
Having a double basin is one of the most time and energy saving choices out there. Dirty pans can be thrown in one sink while vegetables washed in the other; potato peels can be piled up on the right while a knife is quickly washed on the left. There's also something about a duel basin that lends more gravitas to the sink area so that it feels more like a focal point, especially if it's under a window or centrally located. Not to mention there are so many beautiful sink material choices out there now, from quartz to marble to brass.
A large refrigerator is crucial, as smaller ones have issues staying at the correct temperature and tend to blend the smell and flavour of food. But be aware: built in refrigerators tend to be narrower and shallower than their free-standing counterparts. Sometimes a statement fridge that stands out and proud really is best. A fridge should also have a countertop right next to it so produce can be removed quickly and placed on the side. It's the little things that add up, remember.
Image source: Pixabay
The stove is very much open to preference. Some believe it should be gas as electronic or induction heaters will never touch the supremacy of flame. Yet, for committed bakers a properly separate, even-heated and double electric oven is the best choice out there. Getting a door that open and slides in makes a huge difference when turning the baking tray round or basting a chicken (and let's be honest, since seeing them on The Great British Bake Off, we all want a sliding oven door).
Need help with kitchen design or bespoke kitchen furniture? Post a job on Rated People in our kitchen specialist category to receive quotes from our qualified and trusted tradesmen.