When you're after interior style that's not going to fall out of fashion as soon as you've finished decorating, and – more importantly – that's a lasting love rather than a fleeting crush on your part, five-star hotel style should be at the top of your list. It's a look that will feel modern without being self-consciously contemporary, and it'll stand up to life in a family home, too – after all, it looks good despite the attentions of all those guests.
Traditional Living Room by East Anglia Interior Designers & Decorators Oliver Burns
Smarten up living spaces
To bring hotel style to the living room, creating symmetrical arrangements can be a sound starting point. Try a pair of sofas opposite each other with a coffee table in between, or create the same layout with a sofa facing a pair of armchairs.
If your room's not big enough to work your furniture this way, arrange your seating at right angles, or try an armchair in the corner. With both comfort and intimacy in mind, provide lighting – via table or floor lamps – and a side table for each group or piece.
The big no-no if you want a hotel look? All the seating facing the telly. In real life, we know that's exactly what you are going to have in your living room, but try to position it so it's not the focal point of your room. Go for a handsome cabinet that allows you to conceal the TV behind closed doors when you aren't watching, or wall hang it above a fireplace, for example.
When it comes to colour scheming, think neutral shades. They don't all have to be pale, though. If you have a young family, a dark neutral palette is going to be practical and still has the boutique hotel look. Those who are careful enough can enjoy a paler combination of course. The trick is to layer different tones so the room is still decoratively detailed even in quiet colours.
Image source: Suppan & Suppan Interieur
Make dining a treat
Five-star dining (even if we're talking a quick midweek dinner in reality) requires comfort, so start by ditching hard dining chairs and invest in upholstered versions that won't have you wanting to stand up again after a single course. Once again, neutrals are king whether light or dark varieties and if you're concerned about marks, fabric protector will keep you calm. If you have the space, chairs with arms will look the most inviting, and trims or button backs are sophisticated.
Rectangular and oval dining tables are both good choices for the hotel look and promote easy conversation with others around the table. Avoid round tables with a large diameter because talking across the table becomes hard work.
Think lighting in the dining area, too. A chandelier – whether traditional in appearance or with cleaner modern lines – ensures that even in an open-plan arrangement, there's a formal dining room feel that's just right for this look.
Image source: The Fine Cotton Company
Dress your bedroom beautifully
Hotel style will make your bedroom look and feel like the sanctuary from everyday life that it should be. The essential ingredients here? Start by putting the bed centre stage with a tall upholstered headboard that's either plain or has understated trim or a buttoned back.
High quality soft white cotton bed linen will be pleasing to the eye and comfortable to sleep in summer and winter. Oxford pillowcases with their edge detail will also say five star, where housewife designs won't. Don't leave your bed dressing there, though. For the luxurious look you're after, layer up throws or blankets at the base. An upholstered blanket box or low wooden stool across the width of the footboard also looks the part.
As in the living room, symmetry is a great approach. Matching bedside lamps on side tables (rather than bedside cabinets) look good, with bases in glass or a metallic finish to introduce subtle opulence. Make sure you hang a mirror with a decorative frame as part of your scheme and, if you're lucky enough to have the floor space, an upholstered chair will say luxury suite.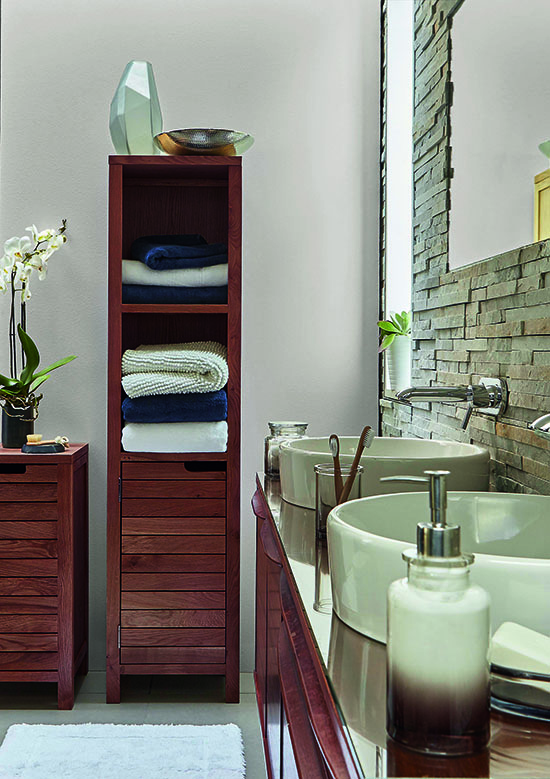 Image source: Dunelm Mill
Brush up in the bathroom
A white suite has you off to a great start in the bathroom, so what to team with it? Once again, neutral decor is a must-have, but storage or shelving in a wood finish – or as a basin console – will bring warmth without straying from the colour scheme.
Hang generously sized mirrors on bathroom walls. In hotels, these often boost the light in rooms without windows. Unless it's an ensuite, your room probably does have a view but making it look brighter and more spacious is never a downside.
The other great luxury in a gorgeous hotel bathroom is the pile of fluffy towels. Fold yours and leave them on show on a rack or in open shelving to signify comfort in your room and, if white's not going to work for the entire collection, mix a few of these pristine beauties in with a second, more practical, colourway.
Look to your shampoos, shower gels and bubble baths, too. Those you get in hotel rooms are never, ever outsized in gaudy packaging, so yours shouldn't be either. Resolve to hide the supermarket buys and show off only your special-night-out smellies, or decant from big bottles into a chic set of dispensers.