To satisfy the desire to maintain our homes, we're always on the search for the latest ways to improve their performance as well as their look. The shower room (or simply a bathroom containing a shower) is a great area to tackle. The following small shower room ideas and improvements aren't tricky to carry out but they can make a big difference to our homes, in both the short term and long term.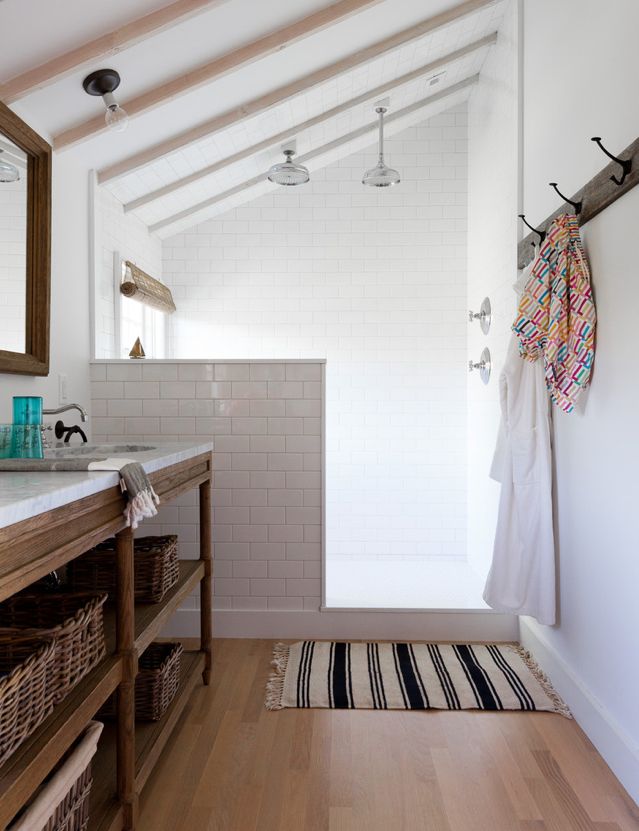 Adjust the water pressure
It's easy to become used to showering in less than perfect water, I'm not talking about how hygienic your water is here but rather the quality of the stream itself. If you're bathing in a few drops rather than a steady flow, it's time to dig out the vinegar. Water pressure problems are often caused by a buildup of limescale and other minerals.
Image Source: Whitelights and Latenights 
Mix vinegar with water and baking soda (roughly 1 cup of vinegar, half a cup of baking soda and 1 cup of water ) and soak the shower head overnight or for a minimum of 4 hours. The acid in the vinegar will break down the limescale, while the baking soda will speed up the breakdown and act as a disinfectant. To save the hassle of unscrewing the shower head, you can fill a plastic bag with the mixture and secure it around the shower head using elastic bands. One night of DIY and your shower head will be as good as new in no time.
Choose an energy efficient shower head
Using a low-flow shower head will halve the amount of water you use per shower. If you attach aerators to your faucets, you'll reduce the amount of water that you use, by making room for air to circulate within the faucets, as opposed to filling them almost entirely with water. Many of us get tricked into buying high-volume power showers with larger holes in the shower heads thinking that the water jet will be more powerful but in reality, they aren't that different to low-flow models, only they can use more water in 5 minutes than it takes to fill a bath.
Water-efficient showerheads use less water while maintaining that heavy flow and you can still couple them with power or mixer showers. To check whether a low-flow showerhead would make a difference to your water bill, place a 2 litre sized bucket underneath your shower. If the bucket is full within a maximum of 12 seconds, there are savings to be made!
Add some plants
Not only can plants inject personality into a room, they also clean the air, which is handy in a space which sees a lot of products used. From the release of particles from shampoos and body washes, to the sticky, often oppressive result of a buildup of steam, the right plants can help filter the air and improve its quality. Mother-in-Law's Tongue and Golden Pothos are great for removing formaldehyde, commonly found in cleaning products and even toilet roll. They work best in darker rooms and aren't fazed by steam.
Get creative
Once you've got your shower sorted, it's time to pay attention to the decor. Think about your personal taste and design the room to reflect you. If you're a comic book fan, you could make your own graphic wall art using strips from a copied magazine and secure them to the wall in a frame. If framed wall art doesn't appeal, think about creating a unique pattern with coloured tiles or simply experiment with colour on your walls. As a rule of thumb, painting the ceiling in a lighter colour than your walls will lift the room and make it appear airier than it actually is.
If you need a tradesman to help you decorate your shower room or troubleshoot a problem with your shower, post your job and up to three tradesmen will get in touch to quote on your job. You'll be sent links to their individual profile pages, to help you decide who to hire.