Whether you use your dining room regularly, or it hasn't seen much love of late, reinventing it could see you longing to spend more time within its walls. In a room which is primarily designed for taking meals, it can be easy to pay less attention to décor than you would in your bedroom or living room. It's a vicious circle. You won't want to spend large amounts of money in a room that you barely use but you also won't want to spend much time in a room where the décor just isn't quite up to scratch.
The solution? Reinvent it with our easy to follow advice and dining room decor ideas to make sitting down for dinner an occasion that the whole family looks forward to.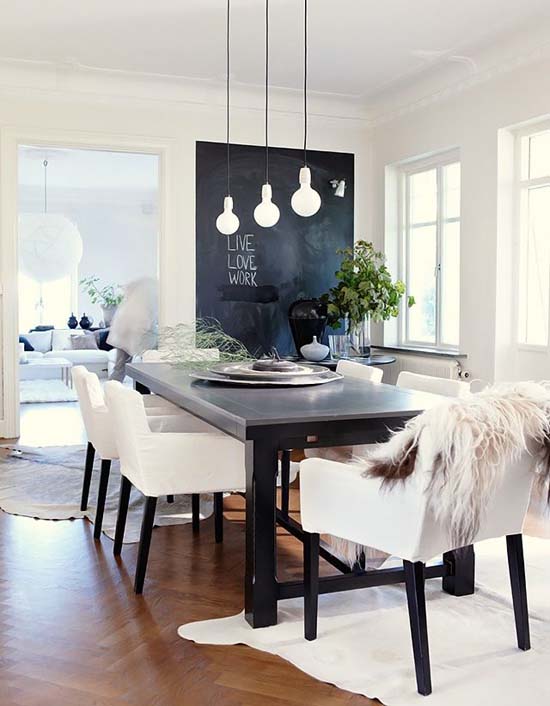 Look with new eyes
Over time, habits form and you can easily become oblivious to how you're using each room in your home. If you fill your dining table with magazines or the children use it as a place to both leave and do their homework, you're changing its intended function. How many times have you spotted a toy or bike propped up in the corner of the room? Whether it's the floor space or tabletop that's being used for storage, recognising what's happening will bring a halt to the room becoming a dumping ground. You might need to reassess your storage solutions throughout your home but it's a job worth doing and one that can begin by removing the clutter and making a commitment to laying the dining table at least once a day.
Size up the dining table
Investing in a large table for a family of three of four isn't practical. Not only will it take up unnecessary space, it will work to make the room feel empty as you eat in full view of vacant seats. If you have guests over every week, an expandable table could be a great compromise; just bear in mind that you'll need to store those extra seats inbetween visits. Not many adults would appreciate bringing their own collapsible chairs as a matter of routine!
If you can, leave a gap of at least 24" between a chair and the edge of the room. Having to adopt a James Bond style approach to navigate your way to the door isn't appealing, especially after a big meal. Sometimes, less is more and downsizing your table will impact hugely on the overall dining room decor.
Provide enough storage
By keeping your glasses in the kitchen, you're unknowingly reducing the time that you'll spend in the room. After you've eaten a meal, you're more likely to linger together as a family if nobody has to leave the room to bring a fresh round of drinks. A stocked bar is ideal for evening entertaining (whether that's a built-in shelving display, fold-down cabinet or a cart) and I would personally aim to complement it with a mini fridge full of cold soft drinks for both daytime and evening use. By having a cabinet with goods such as glasses, placemats and a tablecloth, you'll help to keep your kitchen clutter-free too and ensure that the only thing you're carrying from room to room is those plates of food.
Image Source: decor pad via Pinterest
Create talking points
To keep conversation flowing while you or your partner is busy in the kitchen, you'll need to make the room interesting enough to hold attention. Displaying artwork on the walls will give the space its own sense of identity and my number one tip is to turn the walls themselves into mini galleries. Why not frame your personal photos from holidays, birthdays and other memorable occasions to jog your memory and encourage others to reflect on what they've been up to recently. If you're lucky enough to have alcoves or other architectural features, show them off by using them to display accessories or hang lighting to act as a visual highlighter.
Isolate a focal point
Your dining table is the obvious focal point in your room. In a large space, it will often be the first thing that your eyes are drawn to but in a smaller room that might not be the case. To remind yourself of the room's function, reinforce its importance by placing a rug underneath the table to contrast with the surrounding flooring. It's a great way to introduce pattern and colour in a safe, easily changeable manner. You can swap one rug for another as often as you wish to (and can afford to!) in order to create a different sense of style in the room. I recommend gathering rug samples and placing the squares underneath your table before you buy, to avoid picking a design that works on paper but looks too fussy and chaotic in reality.
Light up the room
Do you feel enclosed or shut off in any way when you're in the room? It could be your lighting that's to blame – or your doors! Chandeliers are popular dining table additions – they provide glamour, speak of sophistication and ensure that all eyes are on the room's focal point. Whether you choose a chandelier or stick to a more subtle lighting choice for your main light, mirrors make fantastic additions by maximising space through bouncing light around the room.
While you want to avoid open archways leading into an adjoining living room (for good soundproofing), swapping any solid wooden doors for doors with glass panels will help filter light from room to room and bring the room back from the edge of isolation.
Do you need help modifying your storage solutions or fixing your electrics to perfect your lighting? Post your job and we'll put you in touch with up to three local tradesmen. You'll be sent links to their profile pages, complete with customer ratings and recommendations, to help you decide who to hire.