Colour gurus Pantone are seen as the pace-setters when it comes to which shades will be the hottest each year. Once a name only on the lips of graphic designers, the authoritative colour brand now sells its favourite hues on mugs, stationery and even sugar bowls or trays.
This year, Pantone have chosen a light and bright green they call Greenery as the colour for 2017. They say it's a 'zesty yellow-green shade that evokes the first days of spring when nature's greens revive, restore and renew'. Greenery takes over from 2016's Rose Quartz and Serenity (pink and blue) and follows from 2015's Marsala (brown).
This year's green colour pick is very much about new beginnings and may speak to those who found 2016 a bad year. It follows in the tradition of these annual colours reflecting global moods and movements, with Marsala being chosen to reflect both nurturing and fine foods and Rose Quartz and Serenity being seen to conjure up mindfulness and gender equality.

So, what can you do with this bright green, what inspiration can you take from it and are there any other colours you should be looking at in 2017? We hope that the below tips provide a helping hand.
Paint
The most obvious thing to do with Greenery is to use it on your walls. The bright green is a fresh, solid colour that could work well in a dining room, conservatory or even a home office, where you can brighten up your work day by bringing the outside in. Many paint companies such as Dulux, Farrow & Ball and Crown Paints will have easy access to the Pantone shade reference numbers and should be able to match Greenery (Pantone reference 15-0343) from its reference number, seeing it on your phone or you taking a print out with you. It will also make a great feature wall colour and could even work well outdoors, on a shed or a rear wall or fence.
Learn how to put together a colour scheme.
Decorate
If you don't like the shade enough to paint a whole wall with it, then you may wish to simply add some elements to your home that draw inspiration from the choice of Greenery as colour of the year. To this end, wallpapers with natural, floral or leaf motifs work very well and could equally work well alongside a feature wall in Greenery. Crown's One Leaf paper works particularly well in this context. Be careful to choose well, as you don't want to inadvertently end up with a jungle theme when you were simply going for springtime woodlands. If you're not sure whether to opt for wallpaper or paint, check out our comparison.
Shy decorator looking for a helping hand? Find out why some decorating rules were made to be broken.
Make it cosy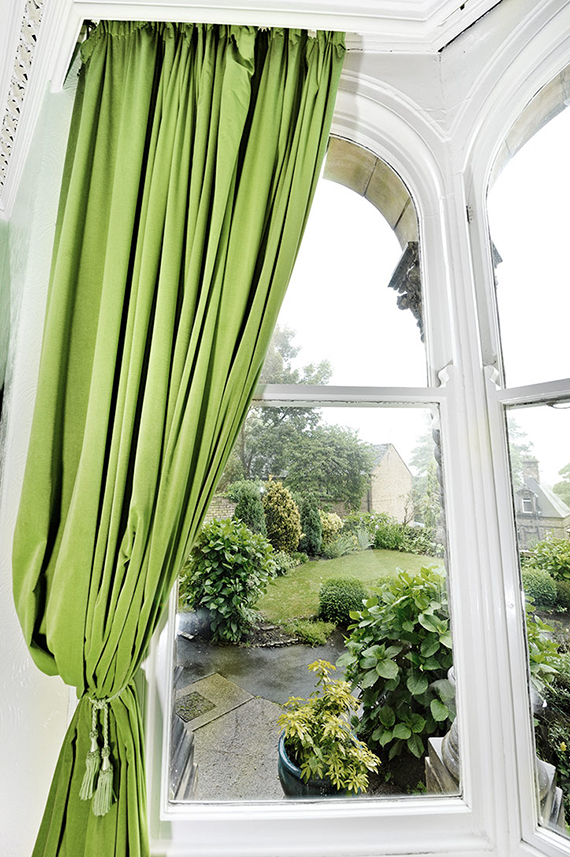 There are plenty of homewares available that use similar light greens to Greenery, or which could compliment the tone well. Cushions, throws and other decorative items, such as tablecloths or placemats, can help to bring the bright green of Greenery or similar shades into the home without any large commitment to the colours. Arlo and Jacob's Bennet stool offers a subtle way to add some bright green to your living room or bedroom. Curtains or painted wooden screens are another great way to brighten up your home with the colour of year. Make sure that visiting friends know they're looking at the colour of 2017 when they pop round.
And if you don't like green
If Greenery is really not your thing, then you could always browse through previous Pantone colours of the year. But do remember that green is not the only colour choice for 2017. There are plenty more that interior design gurus are recommending and that the shops will be pushing. Think about Indigo, that deep, purple-blue shade that the most expensive denims use. It can work well as a highlight colour or even on whole walls. You should also look at burnt orange or even dark grey-blues, which are versatile enough to summon up both classic and modern looks, depending on the room you use them in. If you're not a fan of DIY, why not find a painter/decorator to bring your vision to life.