Set in 1940s South Carolina, The Notebook is a love story of 3 characters: two young sweethearts from contrasting backgrounds – Allie and Noah, played by Rachel McAdams and Ryan Gosling – and a dilapidated house, restored in a quest to reunite the lost lovers. This labour of love restores a house in the iconic 1940's style of the deep south.
Noah decides that the only way to win back his lost love's affections is by putting his wood working skills to the test, restoring a dilapidated house to it's former glory and Allie's specifications. Thankfully he already worked at the local lumber yard, so he knew what he was doing!
While Allie was a rich girl vacationing in the town of Seabrook, Noah was a poor boy from the wrong side town, hence the humble furnishings.
Allie dreamed of a white house with blue shutters and a wrap-around porch. This American dream house may not sit so well in the the UK's southern counties, but it's symmetry and functional retro interior design hits the spot. The interior isn't showy. Its beauty is in its simplicity and craftsmanship – Noah's handy work. Wooden floors throughout the house are testament to his trade.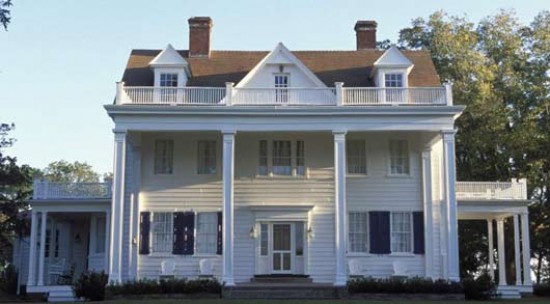 Kitchens in the large South Carolina houses were generous in size, but simple. Lemon yellow walls and white woodwork are complemented by blonde carpentry. Knotty pine furniture and panelling are as decorative as it gets, keep it simple for a traditional utilitarian look. Crock pots and enamel mugs set the style off.
To get the look it's wood all the way, floors, furniture even the building. But if that's going a bit too far, you can create your own Notebook romantic interior by keeping it simple, functionality over form and natural over novelty.