If it takes you months to decide on a wallpaper, you ask everybody's opinion about what you should buy and then become afraid to decorate at all in case you don't pull it off, you're showing symptoms of being a shy decorator. The idea of decorating living rooms in neutral colours often conjures up images of dull, cream or white rooms but this doesn't have to be the case. In the property market, neutral homes sell well as long as they have character. As Phil Spencer described back in October, "injecting your own style is worthwhile – as long as it isn't too off putting to buyers… we're all a bit fed up with everything in off-white." There are all sorts of tricks that you can employ to give your room personality, without going too far out of your comfort zone.
Use texture to your advantage
Using different textures will have just as much of an impact as using the entire colour spectrum in one room. This plush sofa stops the furniture from blending into the wall, creating a cosy space that you want to spend time in.
Likewise, the cream fur rug below creates an interesting contrast with the wooden flooring and that's tripled with the button details in the chair's upholstery. Multiple textures work especially well in neutral rooms since the close colour hues draw the scheme together, making it easier to create an inviting home.
Highlight green
This might sound strange but green is the perfect colour to inject into a neutral home, if you want to play it safe but avoid a one dimensional colour scheme. Since we're so accustomed to seeing greens in outside spaces, we don't register it in the same way that we pick up on reds and oranges. While I wouldn't scare you by suggesting painting an entire wall in a bright green, adding a plant or two will stop your room from slipping into lifeless territory.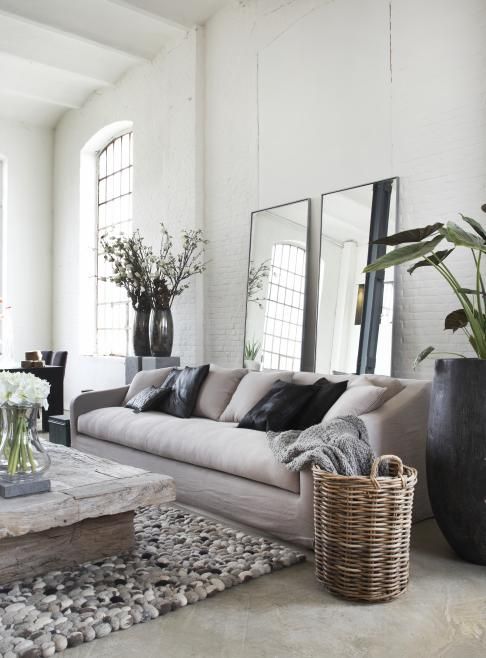 Contrast shades
Mix different shades of browns, or creams for an I-didn't-work-too-hard-at-this look. Which shade you pick depends on your personal style. If you're a fan of understated darker tones, go for an all brown scheme, whereas if you like that airy and light look, choose creams. Personally, I prefer a cream meets dark wood effect to achieve a colour balance but lighter wood flooring can be a great asset in a room filled with darker wooden furniture and minimal if not non-existent white or cream.
Accessorise
Just as the right necklace can set off a plain black dress, or a tie can transform a suit, selecting the right home accessories can vastly impact the visual styling of your living room. A gold framed mirror speaks of elegance and sophistication, while a chandelier adds sparkle. There's no stopping you from becoming more adventurous with colour either, since you can easily swap one accessory for another. Ornaments on shelves and a pot of coloured potpourri on a coffee table are two easy ways to add interest.
Pick a focal point
Maybe you're blessed with my favourite room characteristic (the alcove) or your fireplace has prime position in the room. No matter what your living room's best features are, highlight them. String lights are great for hanging around an alcove while a row of tealights or group of candles work well positioned on a fireplace mantel. Both lighting types will warm up a neutral room and create a cosy haven all year round.