Twice a year, every year, those interested in design head to Paris as the city plays host to Maison & Objet – the design show that results in a billion euros in sales, according to its Managing Director, Phillipe Brocart. 19 years ago, the show began with a focus on teapots, cutlery and vases and it's testament to its quality and popularity that it has branched out to include all sorts of interior related products, from floor lamps to living room sofas.
I expected to hear of copper cropping up on stand after stand and I wasn't disappointed. Designer Tom Dixon explained that along with brass, the material is seen as "an alternative to stainless steel" which has been judged as somewhat cold and uninviting. Steel isn't as easy to work with as copper and brass, they can be moulded and they have a shine about them that's distinctive and appealing. Not only that, he hails them as being the perfect match for the latest technology which sees incandescent light bulbs heat up brass lamps. LEDs lower the temperature and both brass and copper reduce the harshness of the artificial light itself.
After visiting the Home, Top Drawer and Crafts Show at the beginning of this year, I discovered that copper appeared to be taking a backseat to make way for brass to shine and after Maison & Objet, I'm convinced that this is not an isolated approach.
Tom Dixon showcased two new ranges, the 'Cog' and 'Arc' collections, taking inspiration from industrial machine parts to design new products for the home. The 'Cog' collection (above) features candle holders, cone and cylinder tea-lights and trinket boxes, while the 'Arc' collection includes a bottle opener and corkscrew along with a trivet. All manner of exhibitors joined in on the brass action with Vaughan displaying their Bologna Table Lamp, Cinabre offering us bespoke ceiling lights complete with brass urchins and Ferm Living demonstrating that brass is just as good at housing potted plants as it is at shining down on us from our ceilings.
That said, there were many items on show that didn't place copper at the forefront of their design. Below I recap some of my top picks from the 5 day event.
Umut Demirel's layout rug
I admit it, I'm prone to tiring of my own home design pretty quickly and often turn to simple accessories to add a new dimension to the space. Normally this involves a new candle (you can never have too many!) or a plant to jazz up my dressing table. Umut Demirel's layout rug caters for those like me. The rug itself is formed of 10 separate pieces bound together with metal chains which can be rearranged to suit different spaces, or the same space should you just fancy a change in pattern. The geometrical design makes it easy to work with and it's dyed with natural colours too for an added bonus.
Menu's stick system
Working with Menu, designers Jan Plechac and Henry Wielgus showcased their  stick system shelving unit. The wooden and steel structure spans various levels and it can be extended or shortened if need be to fit differently shaped areas. Space has always been a top concern and I'm impressed at the steps many designers have taken to create products which are suitable for multiple spaces.
13 Ricrea's Muchas Rosas
Is this the world's most romantic chair? Muchas Rosas, an armchair made of recycled felt, is the brainchild of 13 Ricrea. Not only is it comfy, it features over 900 roses! I appreciate the fact that the company hasn't taken the easy and obvious option of working with red or pink roses. White tones down the overall effect – it's pretty and feminine and it keeps the chair on just the right side of tacky. We wouldn't all like the reality of lying on a bed of roses, so perhaps this is the next best thing?
Seletti's Trip Pixel
Seletti never disappoints. I'm still obsessing over the lighting on display at this year's Home, Top Drawer and Crafts Show. At Maison & Objet though, it's the Italian's furniture that's stealing the spotlight, just like it did last year with the quirky cow dresser. Adorned with what the company describes as the "Trip Pixel", the MDF wardrobe makes a big impression. Giving prominence to a pixelated face isn't for everyone but it's certainly unique. I visualise the design working best in an unfussy room which embraces creams and browns to help create a warm space.
.exnovo's Saturno Table lamp
Are you fascinated by planets and the idea of a life that exists far removed from Earth? .exnovo are – just look at their new lampshade addition. The Saturno Table lamp uses rings to hide the planet (the light) and remind us that there's something out there that's bigger than all of us. Better still, there's no childlike/ science geek moon or star in sight. Strong work from the Italian designers!
AA NEW DESIGN's Fil armchair
Upon first glance, the Fil armchair doesn't appear to be very special. The steel wire structure and perforated sheet metal has an air of familiarity and the choice of colour could be limiting. However, it's the relationship between the chair and the footstall come handy tray rest that caught my attention. The wire structure of the armchair enables the tray rest to slide underneath it when it's not in use – handy when it comes to making the most of space in a small room. By choosing to steer clear of solid blocked out furniture legs, the products would help open up a room and give the illusion of more space, no matter its original size.
Soonsalon's Dog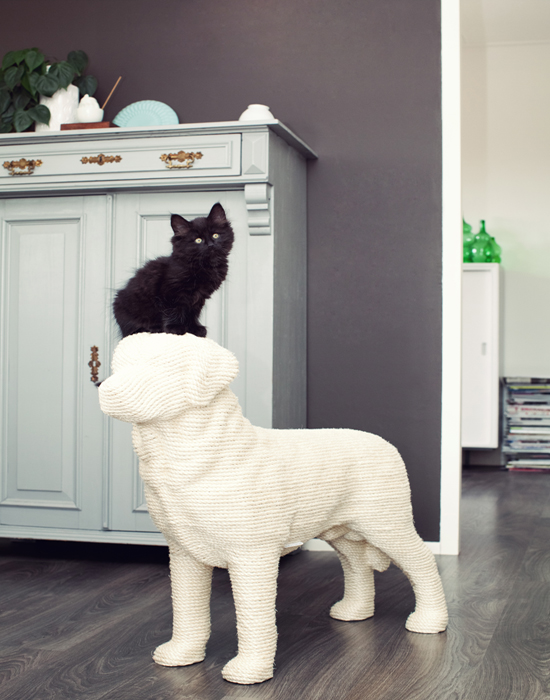 It wouldn't be right if I didn't finish my report without mentioning one of the most unexpected and warmly received stands. Dog is the result of Erik Stehman's handiwork for Soonsalon. The scratching post encourages cats to vent their fury on what he's called their "natural enemy", the dog, rather than your precious furniture. It certainly makes a change from the tall scratching pole that we normally see. Not only is the vertical scratching post dull, it can stick out like a sore thumb in a carefully designed household. The dog, on the other hand, remains functional, while managing to balance that against bringing a sense of up-to-the-minute design into the home.
Do these designs appeal to you? Let us know your favourite by commenting below or sending us a tweet or two on Twitter!
If you need help or advice with decorating your home, post your job in our Painter / Decorator category. Up to three tradesmen can contact you to quote and you'll be able to view their profile pages, complete with customer ratings, to help you decide who to hire.