Many of us will have gone away over Christmas and the New Year, which brought up all the usual worries about how secure our homes were at a time when it can be obvious that we are not at home. The police make the usual warnings about not leaving the presents visible beneath the tree, but sometimes the lack of movement in the house or lack of Christmas lights at the window can attract opportunists. Fortunately, technology is our friend in this department and it has come a long way from the simple £2.99 timer switch from the DIY store.
Image source: Ready Response
For a start, there are companies such as Energenie, who produce power management systems which can be remotely controlled within the house or from a computer or other device. This means that you can create an illusion of activity via sound and light at irregular intervals. They also produce variable timer switches that can switch off power after a set time, which are ideal for anyone who gets paranoid about leaving either the iron or the hair straighteners on.
The availability of small, remotely accessible cameras has been a real boon to the home security industry and it allows you to keep an eye on your home from anywhere in the world. A security expert can recommend and install a system that will allow you to access cameras in any room in your house. Many of the larger security firms offer packages that include security guard call out, although you can also see what has triggered an alarm yourself, whether you are on the train home or on holiday and enjoying a cool drink by the pool.
Image source: Ring
There are cheaper options too, including the very neat Ring doorbell, which allows you to remotely monitor who is calling at your front door. You can view who is at the door and manage to avoid the local gossip and election candidates should you so wish to. What's more, you can also speak to callers at your door and see their faces. This allows you to reschedule parcels or have them put in a safe place, as well as putting off anyone calling in the hope that no one is home. The system is simple to install and does not require a subscription to a security service.
While digital cameras are now relatively cheap it is always a bonus if you can save on home security tech, which is what Presence allows you to do. Recognising the fact that our desire to upgrade our phones and tablets often leaves us with what we see as old technology, Presence uses your old phone or iPad camera as a motion-sensing security camera that you can access from your newer mobile device. This means that you can keep an eye on your door and various rooms around your house and receive alerts to your phone while you are away. Being able to record incidents also gives you evidence should you need it.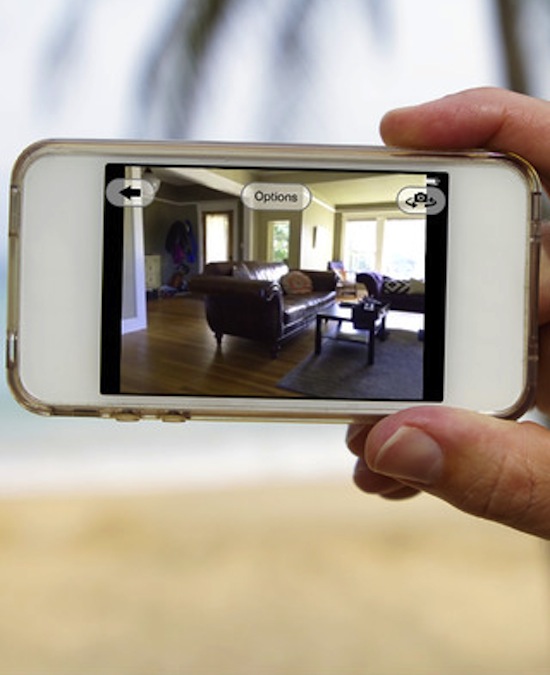 Image source: Presence
As technology develops, so will the kind of products that you can get to protect your home. But do remember that vigilance, good locks and a strong front door are your best first line defence against intruders. Good neighbours who can keep an eye on your home, take the bins in and ensure that your post does not build up are also invaluable.