Now that rain is starting to creep back into the forecast, it's time to plan ahead to stop it from ruining the inside of your home. Give these areas some attention and you won't have to worry about the effect of prolonged water exposure.
Exterior walls
Do a 360 degree walk around the outside of your property and look for any cracks on the outside walls, or bubbles and peeled paint. A few small surface cracks are normal but if they're larger and run deeper than the surface, you should take steps to repair them to prevent water from seeping in. Fill them with exterior filler or dry-mixed rendering. Bubbles can be removed by scraping them and then sanding the surface to remove the moisture, you'll need to add a primer to the walls before repainting them with a water-based exterior paint.
Top to bottom hot-spots
Not everyone has a basement but sometimes, a basement room gets forgotten about and used as storage. If you have one, check it for signs of damp – a musty smell on the walls and wet patches on the floor or walls (especially in the corners). Sometimes, a musty smell hints at a mould build up behind the walls. Either way, it's a good idea to call in a damp specialist to help you solve the problem before it develops any further. Likewise, check your roof for missing or broken tiles and spend 10 minutes in your attic to check for watermarks and mould.
Guttering
Unclog your gutters from leaves and other air-borne debris to stop water from building up and flowing where it shouldn't, like the inside of your home. Some of the nasty consequences of a blockage are rotting windowsills and leaking in your basement. A plumber can also help by fitting non-return valves on your drainpipes to stop the water from being forced back up into your home, should the rain be particularly heavy this season.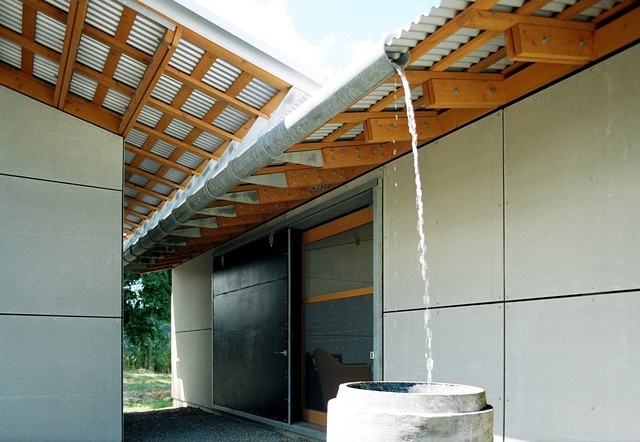 Downspouts
None of us pay much attention to our downspouts on a daily basis. They go on doing their job and we don't notice how important they are, until one day they don't do that job so well! The pipes carry rainwater away from the gutter and direct it towards the sewers – or if you're high up on the eco scale, a rainwater harvesting system. This protects the building's foundation from water damage. If you're finding that water's pooling close to your home, check to see where the downspouts are releasing the water and redirect any with gutter extensions.
If you need professional help to weather-proof your home, post your job and up to three local tradesmen will contact you to quote – whether you're searching for a roofer, renderer, damp specialist or plumber.