Advice
Making a high-rise house a home
With property prices soaring in the UK, our homes are following them up into the clouds. Where once a high-rise home was considered as a last resort or something to be avoided we are now adopting them as a sign of luxury.
Clustered in our cities, the high-rises are rising ever higher, as are their prices. But we now see them more in the American model of the condo. The higher up you are, the better you're doing. But what does living inside a high-rise look like? And what can you do to make your home one that suits your lofty surroundings, rather than just mimicking the houses of those who live closer to terra firma?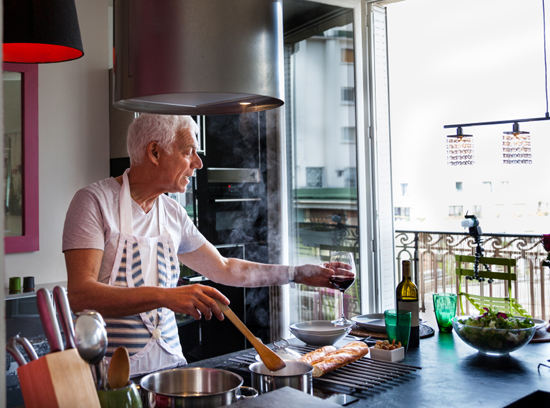 Think differently
Making home up high is very different from having a low-rise flat or house. You may have less space or you may have more of an open plan area than you are used to. Think about how you zone the room if you've got a large space that encompasses living, dining and even kitchen space. Do you want to use shelving or sofas as partitions? Or do you want to remove the odd door to improve the flow of your space?
Stay on the straight and narrow
If your flat or apartment is compact, then make sure your furniture reflects that. Don't be tempted by the kind of cheap, tiny furniture that many landlords put in smaller flats. Instead, make every piece of furniture earn its place. If it's not to be regularly used and doesn't look spectacular, get rid of it.
Straight-edged and blocky pieces will work better than curved sofas or tables. But don't be afraid of the odd curved edge on a chair. Learn the measurements of your flat or keep them in your smartphone. This can be especially important when buying larger items such as beds, sofas or tables. Think about how the delivery team will get them into the flat as well.
Be modern
Living in a modern high-rise flat is a chance to re-order your possessions and re-assess your style. Out goes the woodchip wallpaper and the net curtains, in comes flat blocks of colour on the wall and classic pieces of statement furniture. Ditch that bulky fold out dining table you inherited from your grandmother and invest in a solid kitchen-diner set in teak or rosewood.
Mix items from Ikea with collectibles or vintage pieces, as well as Scandinavian-style items from the likes of Habitat. Don't have too many clashing colours, but do go for pops of colour, whether that's via artwork or a designer blanket tastefully hung over the back of a sofa or a feature wall.
Use the views
Lose the curtains, especially in the dining and living spaces. You're not overlooked but blinds will do for those days when the sun just streams in and you need to make the most of your views as a backdrop for the rooms in your home. The wide open spaces beyond the glass make your flat look more spacious, even if it's a small starter flat. Think of the windows as moving artworks and decorate them to act as frames for the view, emphasising what they show.
Live clutter-free
Storage is the secret to truly modern high-rise living. You may have less room than in a house and certainly won't have a shed or a loft to store things in, so you need to pare back your belongings and preferably commission built-in storage from a good cabinet-maker or joiner. Think about having closed storage close to the floor and open display storage higher up. This gives the illusion of more space and still allows you space to stow away blankets, spare pillows or the best china. Use display wisely and only show items that really deserve to be out for viewing.