"Style, glamour, razzmatazz". That's what Mr Selfridge wanted for his first Selfridges store – at least according to ITV1's drama of the same name.
It's easy to see why it's become so successful. We watch our TV's every Sunday night and lose ourselves in a world where everything's 'en vogue'. There's something so appealing about the style on display. It may be set in 1909 but we still want to be Ellen Love and Harry Gordon Selfridge, popping in and out of rooms with plenty of 20th century character!
Back when Harry Selfridge turned retail upside down, design itself was undergoing a big change. Traditional Victorian style properties with their dark colours, closed off rooms and long staircases, were no longer the thing to have. Instead, the arts and crafts movement entered the scene and threw the rulebook out the window.
And that's exactly why we love it so much! Styling your home should be fun and expressive, with few restrictions.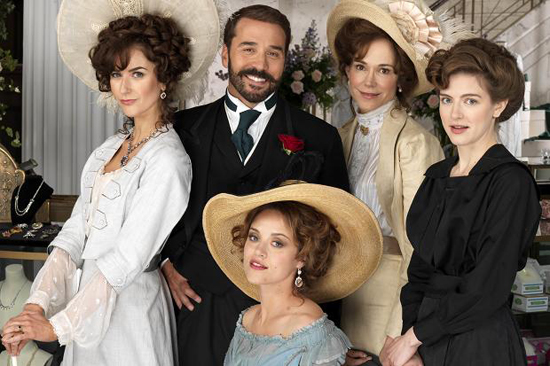 Switching to open plan living led to the swapping of deep browns and reds for rose, creams and mid-greens. Everything's brighter and gives off a happy vibe. Sweet peas and wisteria were popular patterns at the time but so were roses and lilac and the best bit – they never date. Mixed with pastel colours, they lend a fresh, light and oh-so-feminine air to wallpaper. What's more, now that pastels are back on the interior design spectrum, there's no better time to give your home an Edwardian makeover!
To keep the look from going bland, work darker shades of green or purple onto your living room walls or through your curtains. Damask fits the bill perfectly, particularly if you opt for a dark background with gold detailing. As one of AW12/13's biggest trends, you won't have to look very far to find one to your taste.

Image Source: Marcia Moore Design
 Now, arts and crafts had the wellbeing of the craftsman at heart and so it's important to pay special attention to your furniture. Thomas Sheraton was the designer of choice but wicker furniture was just as well-loved and luckily for us, it's still within reach. Where structure and form is concerned, there's the wing chair to admire, which is a design statement in itself of course.

Image Source: Home Klondike
 Anything local and handmade by craftsman was welcomed so be sure to see what your local community has to offer.
Last but not least, we have the lighting to take care of. Louis Comfort Tiffany's lamps were highly sought after thanks to their resemblance to the trend of the moment – stained glass. Why not go one step further and give a thoroughly modern nod to the era by installing a glass panel in your home?
 After all, those lamps won't be making any "must-have" shortlists any time soon!
Image Source: Chris Lomon
The pendant light on the other hand, characterised by its smoked glass casing, is a lot nicer on the eye and comes in a variety of shapes and colours. So no matter the colours accented in your flower arrangements, you'll always be able to build a consistently picture perfect look.

Image Source: Elle Decor via Marcia Moore Design
 Finish off with silver photo frames positioned along your sidetable or units and white/cream ornamental plates which carry a vibrant blue pattern and voila, your home will ooze style from every corner.
The only thing we can't help you with is Mr Selfridge. Sorry ladies, you'll just have to work on that one yourselves!
Ready to give your home the Mr Selfridge makeover? Get expert advice from one of our qualified and approved painters and decorators to give your home a new lease of life.