As more jobs include some degree of working from home, it is no surprise to see desks, office chairs and laptops in our living rooms. But office furniture need not just be saved for the computer corner or home office. Some pieces of furniture that you may find in the office are so stylish and practical that it is a shame to consign them to office use. Whether new or vintage, selecting beautiful pieces of office kit and industrial design can make your home more stylish as well as more practical.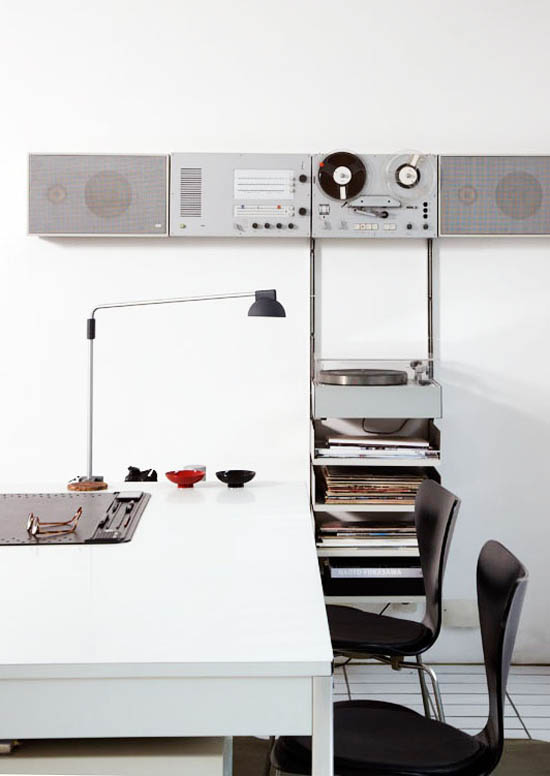 The master of simple industrial design is German-born Dieter Rams, whose classic designs are still made today, with many vintage items demanding a premium on eBay and at auction. His futuristic audio equipment for Braun is very collectable but it is Rams' shelving system that you should be considering for your home. Rams believes that good design should contain as little actual design as possible, with his 1960 Universal Shelving System for Vitsoe being an example of his words in action.
The Vitsoe Universal Shelving System is costly – even a few book shelves starts at £300 – but Vitsoe will design and deliver a system that is designed around your home and your needs. You can also be sure that you can easily sell on the parts if you later decide to redesign your home storage. A tradesman will be happy to fit or take down this shelving, making sure that is properly fitted or dismantled for sale.
Steel cupboards and cabinets from office furniture suppliers such as Staples or Viking can make great alternative audio-visual units, aping the designs of far more expensive pieces from the high street. John Lewis also have pieces that would sit well in any room, including a set of teal file drawers, but if you really want to make a splash with office filing systems then it is best to go for vintage.
Having an old filing cabinet powder coated in the choice of your colour will seamlessly meld the home office with your living space. Likewise, a mid-century selection of chrome, wood or dark metal office cabinets and drawers can be a centre-piece of storage for your home. Mismatched drawers or doors can also be a feature, bringing colour and quirkiness into the living room.
Try car boot sales, second-hand office supplies shops and markets for the best bargains. Chrome or bare silver metal filing cabinets usually demand a first-rate cost but you may be lucky and find a slightly rusted or battered model that can be lovingly restored.
It is not just office storage that you can use in the home. Plan chests can make tables or sideboards, some conference-style chairs make wonderful dining room or living room furniture and office tables can bring industrial chic into your home.
Naturally, there are plenty of vintage options to choose from but outlets such as Ikea are great places to find new office furniture that has a touch of style at less than a second-hand price. Their Galant conference table is just £150 but it allows you to create a modernist casual dining space that will look fantastic teamed with mismatched junk shop-find chairs or a set of vintage wooden stools.