Sorry guys, Jamie's still happily married to Sophie Siegle after 5 years. But every cloud has a silver lining and while he may not be on the market, his Chiswick property is.
The asking price is high at a cool £6.5 million. It will be the highest price ever reached for a W4 London postcode if it sells. At the top end, £3,000,000 is more common but the average house will still cost you around £1,387,663.
In fact, 5 bedroom properties like Jamie's still price in at less than 2 million!
While the asking price may be a little ambitious, I can see why he's so confident that it will sell.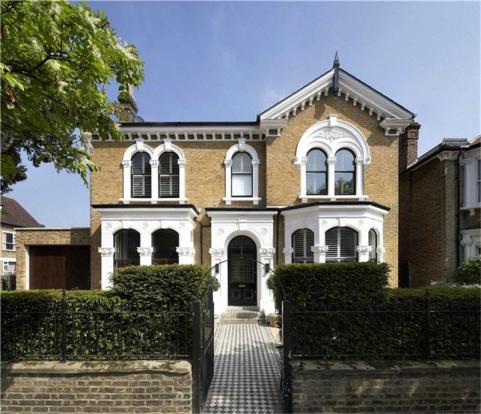 After all, it spans 5,100ft2 and houses a master bedroom with ensuite, four bedrooms, his and her dressing rooms (Sophie's favourite), two bathrooms, four reception rooms, a garage, a wine cellar and a 121ft square garden with a summer house.
Speaking to The Good Property Guide, Jamie revealed how he wanted to be an architect growing up and this talent for design comes across when you look round his home.
The geometric rug is bang on trend, as is the grey and lime green colour scheme in the smaller of his rooms. The wooden furniture is also a nice touch – complementing the vibrancy of the green brilliantly. The darkest wooden item of them all – the mirror frame – keeps the property in tune with its traditional Victorian roots, while blending this homage effortlessly with modern style.
One of the four reception rooms is sleek and the sheer amount of space gives it an airy feel which, strangely, helps it lean towards the minimalist look despite Jamie's obvious love of decorative touches.
While I'm not too keen on the sofas, it's impossible to argue with his eye for design. He sourced the plush brown couch from Brazil and is a big fan of Lina Bo Bardi and Sergio Rodrigues' 1960s products. Many of his chandeliers and lamps have been hand-picked from Rome and Naples and this gives his property a certain amount of style that can only emerge out of an appreciation for culture.
In case you needed convincing, you only have to look at his glass extension to see how much work has gone into the house. He and architect Richard Found of Found Associates have renovated a property that seamlessly blends the old with the new.
It's a work of art and yet it manages to appeal to those searching for their perfect family home.
We're keeping our eyes peeled for its final selling price!