Gardening expert, Toby Buckland, recommends making structural changes during the winter months so that during spring and summer you can focus on planting schemes rather than watching the foundations of your conservatory being dug. Everyone is looking to create more space in their home and the addition of a conservatory will give you just that. Our English gardens spend a lot of the year redundant, by building a conservatory you can bring the outside in and admire your garden, warm and dry inside a glass room year round.
Image: House to Home
Technically a conservatory is a structure where at least 50% of its side walls and 75% of its roof is glazed. Traditionally a conservatory was a grand building in which the rich grew flowers and citrus fruits that wouldn't naturally take to the English climate, hence the orangery became a fashionable home improvement in the 17th century. In more recent times the conservatory has become a space more associated with socialising than horticulture, but however you intend to use your conservatory here are some things to think about.
Advice for building a conservatory
Planning Permission isn't often required unless:
1. Your planned conservatory covers more than half the area of the land around your house
2. It is higher than the highest part of the roof of your home
3. You want to include verandas, balconies or raised platforms
Source: planningportal.gov.uk
Before you begin your project it is always best to check that you do not require planning permission, especially if your property is listed.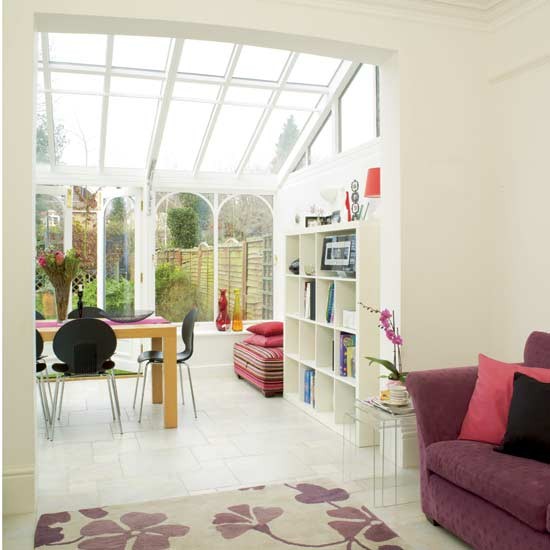 Style is important to keep in mind; which ever style you choose, make sure it complements your home.
Victorian (bell-ended, round floor plan) conservatories, like this one from Vale Garden Houses are a popular choice, but their round design can make them difficult to furnish.
Georgian (simpler, rectangular flat fronted) conservatories are often easier to furnish, yet both styles are common and suit most homes.
Conservatory designs are flexible and can be tailor made to suite period or modern homes.
Conservatories are not a modern fashion and even if your property is listed – and you are not able to extend it – a conservatory could be the answer to creating more space. The National Trust have collaborated with Vale Garden Houses to create beautiful conservatories that are in keeping with period properties, like this Hardwick Conservatory inspired by the 16th and 17th century design of Hardwick Hall.
Where to attach it should be a main consideration. Most conservatories are attached to the back of properties, yet there is no reason why – if you have the space – you shouldn't wrap it round your home in an L-shape. If done well an L-shape design can extend and maximise your ground floor living space. South-facing conservatories will benefit from blinds and ventilation, as they tend to get very hot in the mid day sun.
If you want to use your conservatory as a horticultural haven, south-facing is best, or grow some citrus fruits and call it an orangery – the height of fashion in the 17th century!
Installing a conservatory will cost from around £10,000. If you decide to have a bespoke design constructed the cost will be a lot more.
To find a tradesman in your local area who specialises in conservatories post your job on RatedPeople.com. We'll put you in contact with up to 3 quality, local tradesmen who will each quote for your job, read their online reviews and select your preferred tradesman. Once your conservatory is complete rate her/his work on: value for money, reliability and quality, to help other homeowners who are also looking to hire a conservatory specialist.