Advice
Report from Grand Designs Live – 2013
Grand Designs Live is all about finding inspiration for your home. With over 500 exhibitors across seven different sections and 3 live theatres, there really was something to suit every taste.
Still, as is often the case with homeware shows, there were a lot of over the top products on offer, like the Ideal Home Show regular, Oliver Matthews' embellished sofas. The Urban Blind & Curtain Co. joined them in their appreciation of all things silver and embellished and Classical Chandeliers brought the extravagance home to their spot in the Interiors section.
Where things got interesting for me was seeing this year's AW 13/14 trends being brought to life. Hannah Malein of Global Colour Research explained how this year, it's all about the flint, storm, clash and alpine palettes. Flint is all about 're-evaluating the materials that we have and valuing craftsmanship".  Tactility is really important too, something Johnny Egg's flocked furry bottle ornaments are sure to benefit from.
On the harder side of materials, Hello Geronimo's representative explained that their button prints are the very definition of homemade as each individual component is secured by hand with "very strong super-glue"!
Sticking with art, Artist Mary Narduzzo's latest painting collection was also ahead of its time and can lay claim to both the flint and storm trends – with its tangibility of materials being influenced by the unpredictability of the current climate. Heavily textured with paint, the darker of the colourful pieces had an ethereal feel while all had that unpredictable element brought by the blurred effects. Full kudos goes to Mary for bridging the season gap in paying homage to the ombre trend while also moving it forward.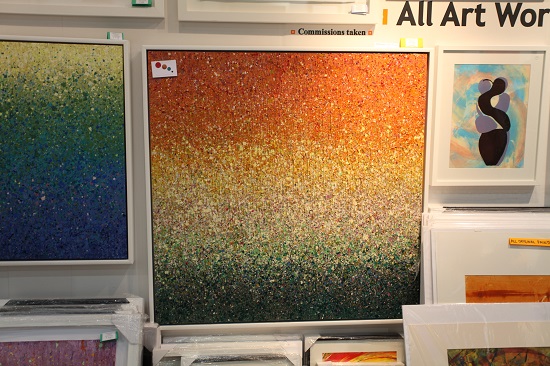 Next up we've got clash which Hannah explains is "a real mix of tutti frutti tones that excites". Layering florals and experimenting with multi-coloured plastics was rife, with Re-Freshed Fabric Art offering a mix of florals and geometric designs printed upon chairs, tables and lamp stands and Chest of Drawers' vibrant Kolor Lighting collection.
Of course, the easiest way to embrace coloured plastics is in children's rooms and this was brilliantly showcased within the Interior Roomsets. Just check out the vinyl flooring by The Colour Flooring Company.
For those of us who prefer a more vintage, rustic look, alpine looks to a woodland palette that's lifted with golden hues. Sustainability takes on a visual appearance as materials are refined yet not beyond what they should be. Those of us wanting to immerse ourselves in the trend could look to Touches of Dutch, with their vintage home accessories characterised by a soft grey hue, awash with a cool blue/green tinge.
Of course, there's always the high price tag products mixed in with the affordable products at these events but for design inspiration you can't go wrong. Tristan Cockerill Unique Furniture's boat bed and distressed sideboard were pricey but they gave me a few ideas about what to aim for with rustic furniture!
But as for what I'd really like in my own home? Without a doubt, it's designer Richard Yorke's hanging flower light for the Hanging Flower Light Company. Beautifully crafted with polypropylene in a range of colours, it leans towards storm with its floaty, dream-like quality and gives a quick nod to clash with its colour appreciation.
Elegant and simple, it's akin to the work of Les Fourmis Bleues and definitely wouldn't look amiss at the world-famous Maison & Object Show.
Grand Designs Live runs from 4-12th May at ExCeL London. Drop by to see the latest home improvement trends for yourself and find inspiration to transform your home.