Advice
Retro gadgets make a comeback
The nature of gadgets is generally that they look high-tech and out of this world. Sleek silver designs and futuristic models are abundant on the market, but what about the old school stuff?
Retro gadgets deserve a spot in the limelight too, especially as people are bound to grow tired of the minimalism we're constantly fed with in the press.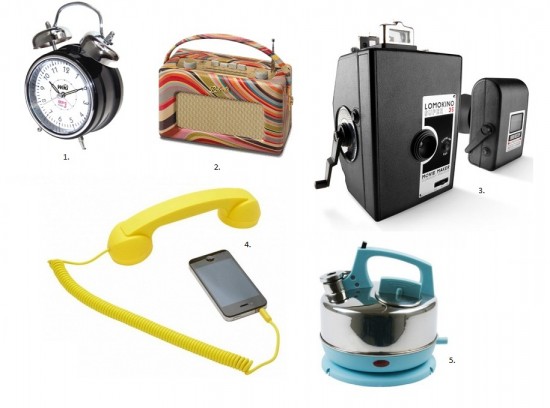 1. The old alarm clock sound is enough to awake Sleeping Beauty from her deep snooze. Thank goodness that there's an MP3 alarm clock on the market that looks like a senior, but comes equipped with modern technique. Plug it into your computer, download the alarm of choice and in a jiffy you'll be able to wake up to bird song, guitar riffs or a sneaky ballad that will lull you right back to sleep…
2. A psychedelic patterned radio from the king of style Paul Smith, is the right side of nostalgia. The Roberts Revival R250 radio comes in a wooden cabinet and if you don't fancy Paul Smith styles, there's everything from blue to brown to beige to choose from.
3. The vintage movie maker LomoKini Super 35 is simply stunning. Load a roll of 35mm film, crank the handle of the camera and off you go. This is the chance for all those aspiring Godards, Bergmans and sci-fi Lucas's to hit it big.
4. We all know that things are getting smaller, more compact and more convenient. But when the mobile phone's keyboard is too small for your fingers or you end up losing gadgets because of their teeny-weeny size, you know we need to press pause. Enter an old classic in a new shape – the phobile. Get rid of your Bluetooth and connect your smartphone to a retro handset in a bright, unmissable colour.
5. Forget stainless steel kettles, the Revival Electric Water Kettle comes in different colours and is cordless. Plastic is fantastic, no?
If you fancy installing a retro kitchen, old school diner or fitting a 1970's living room post your job on RatedPeople.com. Up to 3 quality, local tradesmen will get in touch to quote and you'll be able to read their customer ratings in order to pick the right one for you. One piece of advice. Mint green is a no.