Designing a small hallway can be challenging. Many of us leave the creativity for our bedrooms, when we realise that there isn't room for the seating and side table that we've been lusting after.
But did you know that making some smart storage choices could see your hallway come to life?
Make the most of storage
Show off your alcove or under-stairs nook by working in a chest of drawers or shelving complete with coat hooks. The main thing is to keep the area open. Blocking off the space with a cupboard can shave inches off the room. Knocking a cupboard out, meanwhile, will do the opposite.
If your stairs are closed in, swap the under-stairs storage for narrow shelving that stretches along the length of your wall. Many furniture companies offer streamlined products and of course, if money's no object, you can always go down the bespoke route, providing a reputable company with your dimensions and visual requirements.
For the *extra* small hallway, invest in wall shelving or install hooks for your coats so that your storage has zero impact upon your floor space.
Find a carpenter to craft bespoke, slimline storage that will fit even the most awkwardly shaped hallways, on Rated People.
FIND A CARPENTER
Dress your walls
Going overboard with colour and patterns can be overpowering in a small space and actually make the room appear to be closing in. Saying that, bare walls can be dull so compromise by allowing framed photos or artwork to be the talking point. Line them up to give the feel of a gallery wall. For a change to the ordinary, why not create a picture rail?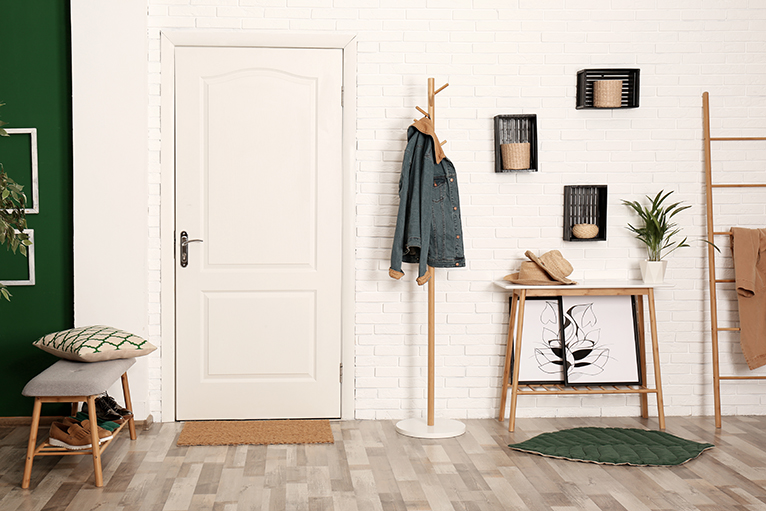 Your guests will want to take a peek at your photos, giving your hallway purpose. After all, you need your room to have a life of its own, rather than just being the front door and living room go-between.
Light the way with clever colour
If you've dressed your walls, you're going to need good lighting to show them off. Use hanging pendant lights which demand attention and combine them with smart colour picks when it comes to your walls. There's no use picking dark colours if you want to avoid the enclosed look.
A qualified electrician can install hallway lighting safely.
FIND AN ELECTRICIAN
Opt for paler tones in a colour of your choice and your small hallway will look both lighter and larger. Picking a darker shade for the far wall and sticking to paler tones on the length of your walls will make a dramatic difference.
Pick shades which both complement and stand out against your door colour too. Once the door's closed, you'll want the whole space to work together.
Style Director of LivingEtc, Harriet Paterson, suggests brightening up your banisters with a splash of colour and adding drama to your stairs with a lively pattern. If you're faced with a staircase when you open your front door, this will give you maximum style points!
Accessorise with circles
A circular or oval shaped mirror and clock are brilliant ways of adding interest to your walls. But it's not so much the shape that's important, but the location. Securing a mirror or clock to your far wall will make your room appear longer; while a large mirror placed around about half-way will be the perfect focal point.
It doesn't matter what size hallway you have, you can make it look fabulous!
If you would like help creating your designer hallway, visit our website to find a painter and decorator in your area. Up to three local tradesmen will get in touch. Simply look at their profile and ratings and select the right one for you.
FIND A PAINTER AND DECORATOR
---