Hooray, it's now officially spring! I don't know about you but the first thing I want to do is change my decor, starting with the walls. After all, how can we embrace the new season if we're still living in winter's shadow?
We spoke to Robert O'Donnell (Showroom Manager, Farrow & Ball) and Chloe Bawden (Press Officer, Designers Guild), to give us some direction about where we should be headed.
Warm to blue
Pantone's colour of the year may be emerald green but right now, it's blue that's stepping into the limelight. As Robert explains, "even pea-green is too bold. Blue's a camera colour". And he's right of course. Blue photographs well because it's a real eye-pleaser.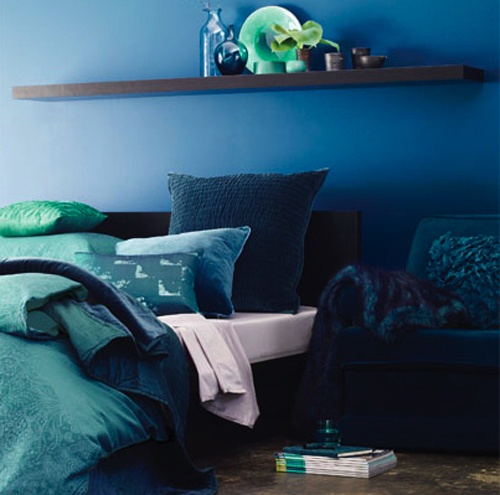 Location will also play a part in our wallpaper choices. Robert suggests that "bright green's too heavy for London. Because the houses are slightly smaller, they like lighter colours like bluey green and greeny greys. It's the whole grey look."
Neutral colours will always be popular, as will the classic striped design. There's a reason why even the most vibrant wallpaper designs are most popular in shades of grey and cream, rather than orange and yellow. As Robert says, "People tend to stick to the neutrals. They get really horrified when we pull out the bright colours. But after they see how it works and we've given them samples, they're okay."
Seeing as most of us don't book colour appointments, the overall trend will be continuing to opt for the neutral shades in fussier patterns. It's no surprise that the seven neutral shades of Farrow & Ball's 'Silvergate' range are more popular than the bolder selections.
Likewise, Farrow & Ball's animal print 'Ocelot' is this year's surprise best-seller so far and all five of its colour choices are firmly placed on the neutral palette. Surprise surprise, the brightest 'Ocelot' is a bluey grey – very sellable. Robert's next tip is geometric designs, but you've guessed it, it's the neutral option that we're all going to be buying!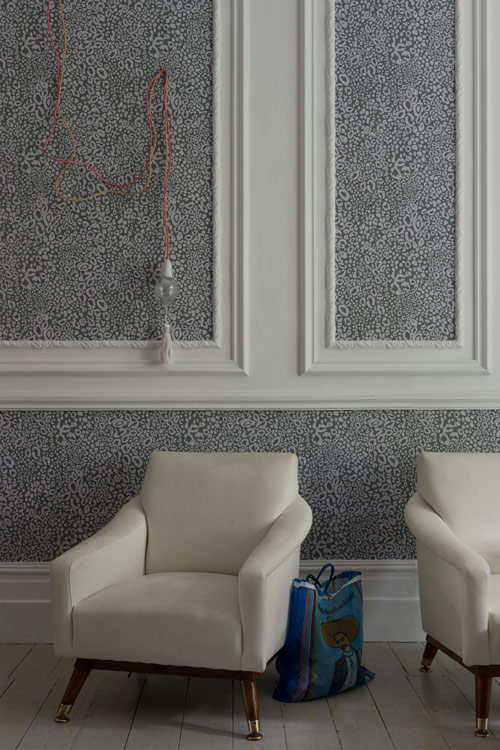 Take the fresh approach
While blue may be in favour, lighter shades of green will remain close behind. As Chloe explains, "the pale jade and the mint are tipped to be big". These lighter colours are both energising and calming – exactly what spring is all about.
To avoid the bland, Chloe suggests selecting different shades for different rooms. Experimenting with bolder shades of blue and green in social spaces and sticking to cooler tones in bedrooms will create a seamless flow between the different areas of your home.
Embrace ombre and tie dye
Another way to introduce some personality into your home is to opt for tie dye or ombre wallpaper. As Chloe explains, "ombre is a really good alternative (to an all-over bright colour) because it's not as busy". Tie dye, meanwhile, "is the hot trend to look out for this spring." The alternating colours reduce the harshness of bolder shades, leaving you with a colour design that you can happily live with.
At the moment, tie dye is only available in selected fabrics within Designers Guild's collections but the ombre design is ready to purchase, through Castellani Wallpapers' 'Saraille – Cobalt', 'Saraille- Aqua' and 'Saraille – Pale Jade'.
Be bolder in smaller spaces
This year, we can take the risk out of bolder colours by putting them to good use in small areas. Chloe explains that "we can bring accents of colour this way" and that this is something that paint and wallpaper specialists really encourage. A splash of colour in the understairs toilet or at the back of cupboards works particularly well. In the past, it wasn't so easy to experiment. But now, there's less of an excuse. Many made to order companies like Farrow & Ball now allow you to buy a single roll at a time, instead of the minimum of three. It's much kinder on the bank balance!
I wonder where blue (and green!) will take you this season…