Kourtney Kardashian and boyfriend Scott Disick have put their Calabasas home on the market for $1,700,000 (£1,020,000), just a few months after finally completing what Kourtney saw as a personal project – re-imagining their home room by room. As the eldest of the Kardashian sisters and the first to become a mother, Kourtney has always had a hard time shaking off the sensible, dare we say it even boring, label attached to her. But step inside Kourtney Kardashian's house and it tells a completely different story…
Inside Kourtney Kardashian's house
Over the last three years, interior designer Jeff Andrews has worked with the couple to create a home that is completely original. Scott describes it as "Alice in Wonderland meets Beetlejuice" and personally, I don't think he could have come up with a better description!
Set over 5,400 square feet, the open floor plan revels in pattern which adds a new dimension to the often monochromatic design. The hallway promises adventure and a not-so-typical Hollywood home with its appreciation of Egyptian design. This is one fierce property – just look at those dogs!
Head into the living room and you'll start to understand Scott's Alice in Wonderland reference. Between 10 and 20 bulbs hang suspended from the ceiling and striped pillars and walls play off geometric flooring to create a larger than life space. You certainly wouldn't want to linger long in here with a headache. That said, those bright blue flashes, from the chair upholstery to the framed art print hanging above the fireplace, soften the overall look.
My favourite space is the area surrounding the staircase which leads to the first floor. Feather printed paper lines the walls while stair treads have a graphic appeal, crafting an effortlessly cool vibe. One look and you would know that this home belongs to someone who's not afraid to experiment with prints, so it's no surprise that Kourtney has her own clothing line with her sisters. The vibrant crayon-like colours displayed on the table pick up on the hues in the giant print adorning the wall. They position the home as a fun, family space suitable for children – with special thanks to the blue horse's head!
Walk into the study and you'll find that the colour popping theme continues. Colour-coded books line the shelves, while red cushions make those black and blue chairs look inviting. Bright bunches of sunflowers sit underneath the windowsill and a zebra rug reaches across the middle of the floor. It's fussy and eclectic but somehow it works, doing a great job at lifting what could be a dull and depressing space. Darker than dark wooden flooring, walls and furniture make quite an impact by themselves.
In the family room, the bright colours are cast aside and the only light comes from the fireplace. Feathery walls are met with fur shrugs, fluffy and printed cushions and what appears to be horn shaped ornaments above the fire. A side table incorporating a snake-shaped base sits to the left of the room, looking in on the heavily textured scene. There's a mix of old and new elements with clear historical and cultural references which combine to create a cosy and inviting area in the home.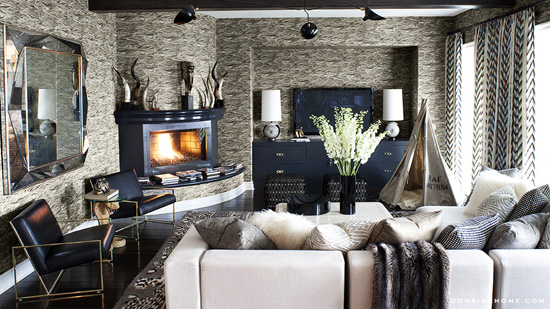 There's no denying that Kourtney and Scott have incorporated fantastic talking points to help broaden their children's minds. If it's not the horns and snake in the family room, it's the faux zebra head topped with Indian style headdress in Mason's safari themed bedroom or those Egyptian dogs in the entrance hall.
In the kitchen the theme lightens up. You'll still spot loud monochrome prints resting on the stove on a kettle, housing an array of wooden spoons on the side and imprinted on jugs in the cupboard, but you'll also find a speckled worktop, a white backsplash and multiple white cupboards and edging. The copper lights and egg shaped ornaments establish a room to room connection which creates flow in the home.
The same approach has been applied to the master bathroom. Marble accents surround the bath while white/grey walls are accompanied by a zig zag print and a wooden, rustic chair which just so happens to be topped with fur, similar to that displayed on shrugs in the family room.
The only room that doesn't quite fit belongs to the couple's young daughter, Penelope. Even the children's joint nursery continues that black meets bright combination with plastic red chairs and lego toys complementing a chalkboard wall.
Yes, the statement graphic print rug is present but the room's just too pink despite the crazy clashing with the cloud printed ceiling. Perhaps Kourtney knew that the house would be on the market soon and didn't feel quite so inspired.
Despite the design anomaly, one thing's for certain. Kourtney certainly abandoned her desire for "all white walls and for everything to be really simple". As she explained, in a recent interview with Domaine Home, she started thinking, "I'm too young… I want to have fun!"
There's no telling whether the property will be a hard sell, but with her keen eye for design and reluctance to play it safe, I can't wait to find out how she decorates her new home!
Credit for all images belongs to Domaine Home.
Feeling inspired and looking for some help redecorating? Post a job on Rated People in our Painter / Decorator category to receive quotes from our qualified and trusted tradesmen.