Advice
Sustainability at The Crystal
The topic of climate change is nothing new but what is new is Siemens' initiative to help combat it. Last year, the first centre dedicated to improving our knowledge of urban sustainability opened. The Crystal practices what it preaches and is one of the greenest buildings in the world – with no grassy roof in sight. What's so fresh is the contemporary look of the building. You'll find an elegant, glass skinned structure that keeps a regular indoor temperature and lets in a good amount of light and air.
There's an underground heat pump to aid the heating and cooling processes and the building itself is a fossil-free, all electric creation. As for the solar panels, they're there but they don't stand out like a sore thumb against the rest of the building. Water is collected from the roof via a rainwater harvesting system and reused after a clean onsite to cut down water wastage in London. And the best bit? It took less than 2 years to build.
3 years ago, 50% of us lived in cities and this is set to rise to 70% in 2050. To counteract the urbanisation and make it sustainable, The Crystal demonstrates that we need to balance environment, quality of life and economic competitiveness. We need to be as green as we can to be kind to the environment but this has got to be profitable and not result in a poor quality of life. It's no good if there's overcrowding on the transport system or we can't live comfortably because we've paid a fortune on green improvements that aren't right for our property.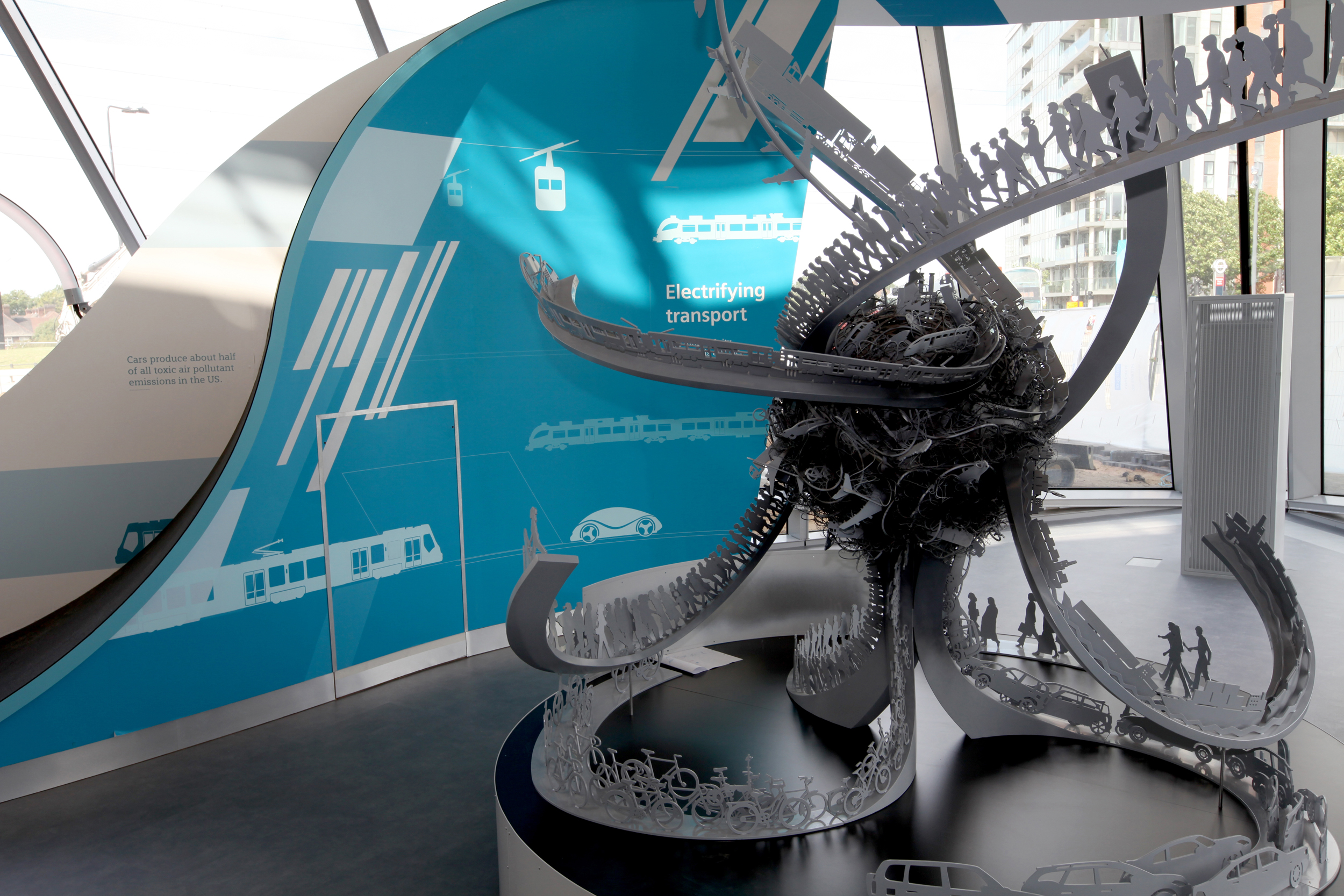 In the 'Future Life' section, Europe's most sustainable city – Copenhagen, becomes the model example for city improvements. A smart grid manages the city's wind energy, lowering the bills when it's been a particularly windy night because of the excess energy that's available. There are PV window shutters, using the sun's energy to determine whether they are open or closed. The many trees cool the air and the many white roofs reflect the sun's energy.
Image Source: European Comission 
While city management is the government's job, the 'Smart Buildings' section shows us what we can do personally. The minds behind The Crystal have realised that making green improvements is all well and good but they need to be affordable and we need to make sure that we pick the right ones for us. An interactive display lets you build your own home with the aim being to make it as sustainable as possible. You can mix and match between green and not so green options to discover which improvements will make the biggest impact.
My creation had a B rating and I invested in smaller windows after learning that solid walls are better insulators than glass and occupancy detection to save on electricity when I exit a room. There are handy tips to be found everywhere, like using automatic blinds to save energy on cooling in the home. Ordinary blinds encourage you to waste energy as you're tempted to use artificial lighting when the room's too dark. Automatic blinds will assess the light levels and shut in intense sunlight to save on energy.
While I bought into a low flush toilet system to save water, I was reminded that what we do in our homes is just as important as their material construction. It's all well and good implementing the system but answering questions in the interactive 'Water is Life' section taught me that I need to save on water by making sure that my washing machine is fully loaded each time I use it.
The Crystal exhibition is based in London's Green Enterprise District. Entrance is free, although a guided tour will last 90 minutes and cost £6 per person.