You may think that a property housing a family of three would have three bedrooms, possibly four with a guest bedroom, but no, not on the celebrity circuit! Television presenters, Eamonn Holmes and wife, Ruth Langsford, have put their three-storey Surrey property on the market and one of its selling points is the six bedrooms that it boasts.
Not only that there's the in house cinema, the fridge dedicated entirely to wine and the luxury of all luxuries – the hot tub that's perfect for both those warm summer nights and cold winter evenings (if you can bear venturing into the garden in little more than a robe and swimwear).
I've always enjoyed seeing how the other half live, particularly when their home keeps on giving. Four reception rooms, five bathrooms and a jacuzzi within the master bedroom's ensuite give this couple extra celebrity points.
Judging by the decor choices, you could mistake the home for one belonging to a couple in their 20's. The living room is adorned in soft purples, combined with white for an icy effect and there's no overlooking that plush carpet. Even if it's only practical for the extra careful, it certainly looks soft and warming.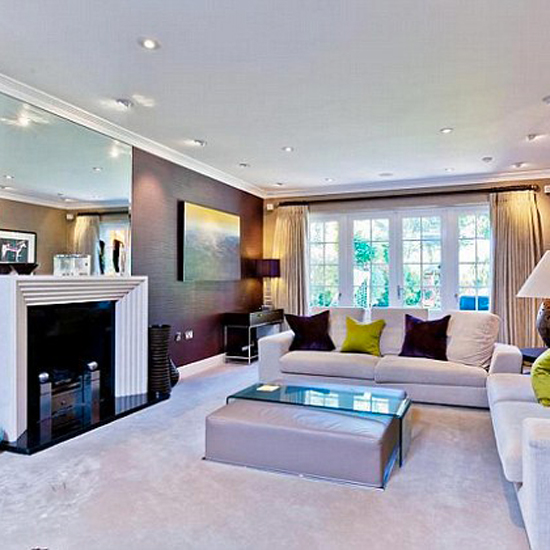 The bedroom's not quite to my taste but again, they've gone for a simple approach – this time with minimal furniture. Perhaps it was a conscious decision to balance out the boldness of the red, white, grey and black colour scheme?
Evidence of the couple's background comes with the contemporary kitchen, complete with island and walk-in pantry. Circular in design, it's flashy and uses light and colour in interesting ways to full effect. Choosing to paint in yellow underneath the cabinets helps illuminate the surfaces of the worktops, along with the bright lights dotted underneath the cabinets themselves. My first thought was celebrity chef. It seems that filming the cooking segments for ITV's, This Morning has had quite an effect on the pair.
Very few of us have a warming drawer to keep our dishes warm for a start! My quick fix solution is to simply place them in the oven but Eamonn and Ruth take all forms of heating seriously. If it's not the dish warmer or plush carpets, it's the underfloor heating which is staving off the chill.
If money were no object, how much would you be prepared to pay for this Surrey mansion? You'd be driving home to Granville Road in the sought-after St George's Hill area in Weybridge and could head into London in less than an hour. I'd struggle to put a price on the property but I'd love to know what you make of the £3.25 million asking price. Is the figure too high or justified considering what it has to offer?
Credit for all images belongs to House to Home.